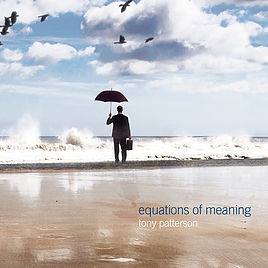 Over a year has passed since Tony Patterson teamed up with fellow North East muso Brendan Eyre to create Northlands. Time waits for no man and Tony has not suffered from idle hands.
Equations Of Meaning
may seem a strange title for an album though it all becomes clear after listening to it. Tony is best known for his role as singer with Re-Genesis yet fast becoming more recognised for his own work composing for television and soundtrack. No surprises then that Tony plays many of the instruments throughout
Equations Of Meaning
including vocals, piano, keyboards, acoustic and electric guitars, flutes and programming. As accomplished as he is Tony elected to draft in some rather talented guest just to add some external influence and styles which in my humble opinion paid off big style. The premise of the album is dealing with loss and reflection and as a consequence warmed to the songs immediately. This is a deeply personal album for Tony Patterson which is evident by the intimacy of the lyrics. Opening piece
Ghosts
is the atmospheric prelude to the whole album and eases the listener in with a melange of flute and Mellotron though as with many of the songs and musical passages throughout have a contemporary edge to them. Leading smoothly into rather splendid 
The Magdalene Fields 
the sense of loss and losing someone you know and love coupled with want to be with them is dealt with in a very thought provoking way. The song reminded me of 
Entangled 
by Genesis though ultimately more ethereal and substantial. Great contributions here from ex Steve Hackett keys man Nick Magnus (programming) and sax inflections by Northern jazz legend Fred Arlington who appears throughout the album. Some rather homely crackling sounds at the conclusion of this piece will appeal to the vinyl heads amongst us.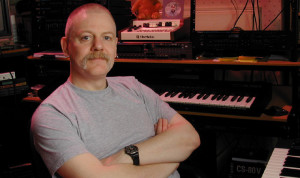 Each Day A Colour
is a smile inducing song on many levels. lamenting the condition synaesthesia, a condition shared by many including Mr Patterson  himself. The very upbeat nature of this piece conveys the positive nature of the condition in some cases allowing individuals to label the days of the week with colours. 
Each Day A Colour 
has the Nick Magnus signature all over it which is simply magnificent. Nick's Keytar playing here adds just a little spice to the piece and programming is exemplary. Bringing the pace down to a more tranquil environment 
Cast Away 
regales the feeling of somewhere you would rather be. The song reminds me of better days musically in the way it is constructed and the sounds used. 
Cast Away 
seems to revisit the better rendition of what we used to know as Prog. Continuing in this vein 
The Angel And The Dreamer 
finds Tony Patterson taking the brakes off a little and launches into a three part musical excursion. The fist part of the piece 
Vision 
utilizes the vocal talents of Siobhan Magnus (no relation) in a yet again ethereal atmosphere. The calm before the storm as the piece moves into 
Journey. 
Here we find Mr Pattison performing a Moog solo on the first of two such events the second being performed by Re-Genesis keys wizard Doug Melbourne playing a killer solo on his Mopho synthesiser. I was blown away by this musical interlude and i had to resist the urge to press the repeat button.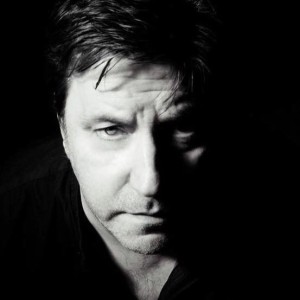 Once again moving into a more sombre mood amidst a sumptuous soundscape and crisp piano
Beneath A Perfect Sky
finds Tony playing some of his best work all be it very subtle. Horns by Fred Arlington adds further to the warmth and breadth of the piece. very pleasing indeed. Such motifs were first heard on Tony's previous album
Earthlight.
He seems to have exploited it beautifully throughout the whole of
Equations Of Meaning.
Two of Tony's major influences can be heard in hard edged
Sycophant.
a poignant message delivered with vocal and lyrical aplomb. Featuring band mate Andy Gray playing a guitar solo the first of Tony's influances Peter Gabriel is evident from the outset whilst the deliberate strings and orchestra pastiche can only be a tribute to the second influence the late John Barry. Very thought provoking song with some great synth which empties nicely into
And When The Sky Was Open.
Alan Parsons sprung to mind immediately (think I Robot) Very sequential with genesis musical overtones and leading nicely into
Pilgrim.
Snappy drum patterns finds Tony very much in Sting mode, in fact i can imagine Sting singing this song. I found it totally absorbing. Dealing with emotions not yet dealt with
Pilgrim
is a convergence of so many styles and influences old and new the horns and sax giving off an American feel.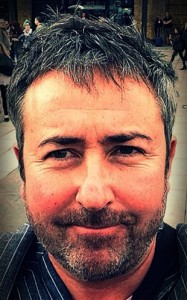 Co-written with Northlands cohort Brendan Eyre the penultimate musical passage
As The Light Goes Out
carries the album towards it's conclusion so beautifully. Brendan Eyre adds a very nice piano piece lending his deft of touch to yet another wide-screen soundstage culminating in some eerie effects. How to end such a feat? Well, how about a good old fashioned ode to your loved one? And that is exactly what Tony Patterson has done. A song about his life with wife Angela and a single if ever i heard one! Joined by Nine Stones Close axe man Adrian Jones playing some great slide guitar and guitar solo. A fitting conclusion to joyful musical journey. Unlike many albums of this nature
Equations Of Meaning
does not rely on multiple plays before it finally gets absorbed. I fell in love with it from the off. Another album that defies category instead being a selection box of musical genre with many of my favourite flavours within. Art work by Howie White and Meriel Waissman completes the album package with a nicely finished booklet containing all lyrics and credits. For anyone who bought and loved the Northlands album this is simply a must have. In my view this is Tony Patterson's best work to date. Song writing, composition and musical textures make for an album that oozes quality and a joy to listen to. As you would guess i not only strongly recommend Equations
Of Meaning
i would council that it is a necessity.
EQUATIONS OF MEANING is released on February 26th 2016 from Cherry Red Records £10:95.
shop.cherryred.co.uk Also available from Amazon.