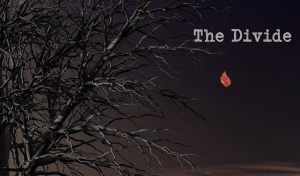 Multi-instrumentalist Tony Patterson and keyboard player Doug Melbourne first teamed up in 1998 when Tony joined Genesis tribute band Re-Genesis as the bands singer. The ensuing years found the band achieving cult status and having seen the band on numerous occasions I can understand why. Founder member Doug Melbourne whom I have witnessed playing some breath taking exploits playing such Genesis classics like
Cinema Show, The Cage, Firth Of Fifth
and many more I can confirm that these guys know their onions. Having left the band in 2017 to concentrate on other projects Tony Patterson and Doug Melbourne maintained their musical bonds and in late 2018 began writing together in what became a joyous collaboration resulting in
"The Divide".
The writing and recording process was swift and fluid with many of the ten pieces included tackling topical subjects in a less contrived way as some other artists. Don't expect twenty minute epic operetta or blinding guitar solos, it's simply not that kind of album.
The Divide
does cover many musical styles ranging from pop to electro and even a love song thrown in, yes, a love song! That said there is no shortage of drama and scale as opening gambit
Antarctica
attests. As the metronomic sequencer and pleasing bass synth lines begin it becomes clear that
The Divide
is a break from the norm and all the stronger for it. With obvious overtones regarding global warming and its apocalyptic outcomes there are tongue in cheek references to CGI hit
Happy Feet
indicating that Messrs Patterson and Melbourne aren't in the business of taking themselves too seriously whilst not losing the impact of the message. The space and air created here are down to the careful selection of sounds with some great synth playing resulting in a huge scale making it easy to imagine the crumbling ice caps in the mind's eye. Very atmospheric and a great start to what I can only hope is the first collaboration between Tony and Doug.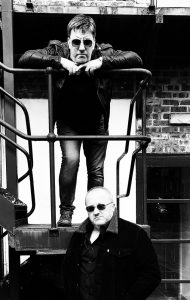 Mark Duffy's artwork throughout the beautifully presented CD booklet represents each of the songs perfectly and does the age old job of placing images firmly in the listeners mind. Indeed the colourful and well set out imagery of the booklet brings home the joy of ownership and having a tangible object to hold in your hand adding to the human experience of playing the album. There are few vagaries about the songs like
Fake News
which tend to hit you right between the eyes and don't need any explanation of their lyrical content.
Fake News
edges towards the blatant Peter Gabriel area with African connotations to begin with and a pounding electro beat. This song demonstrates just how well put together the album is. Production is A1. Following the theme of
Fake News
lyrically is
Making It Great Again
which I take to be a skit on the likes of Donald Trump and Nigel Farrage along with deluded individuals expecting to retrieve their lost values and heritage. Powerful Mellotron sounds with some added subsonic exploits that can possibly shatter kidney stones. There are hope inducing songs too like
Next Generation
that sets out to demonstrate faith in our young generation and their broader awareness of carbon footprint and renewable energy. This song made me think of Greta Thunberg a teenage activist from Sweden who sent out such powerful messages to politicians during her speech at a demonstration in London. Here Tony Patterson adds a welcome guitar motif. To appease the ardent genesis/Steve Hackett fan this one will do just nicely. Both the lilting acoustic and electric guitar have that really early Genesis feel to them Doug Melbourne's synth solo brings the song to a blistering close. One song that isn't quite as obvious in its meaning is
Leave This Town.
Its steely aural landscape opening finds the boys back in electronic mode laced with some Supertramp like piano. Deceivingly not about leaving your town per se to explore fresher climes and the like, it's about leaving behind technology, computers, phones and media all excellent in my view.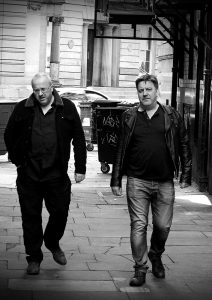 Great vibe set up which seeps into the next song too. A Kraftwerk/Tangerine Dream opening and containing some powerful percussive sounds
Man On TV
stomps along nicely with some great Mellotron and synth sounds plus a spooky Theremin for good measure. Originally inspired by Tony Patterson's improvised lyrics this song morphed into its present form when Doug Melbourne watched a programme about conspiracy theories with his dad and took on a whole new form. In stark contrast a totally different tack is taken with
When The Evening Comes
throws out that West coast chic tinged with Dave Grusin piano and a lazy percussive back drop.  Fell in love with this song immediately. The addition of a female backing vocal made me think of
Down The Crazy River
by Robbie Robertson. Keeping with a laid back tempo
More Beautiful
finds Tony Patterson in a more romantic slipstream celebrating love for those around him and those close to him. This I feel was a more Phil Collins approach to the writing and I have to doth my cap for the songs inclusion in more shall I say more masculine surroundings composition wise. More Beautiful adds a little sweetness and light to an altogether punchier and synth driven cluster of songs. Speaking of which the growling and pulsating synth opening of
One More Thing
which incidentally was to be the title of the project until recently carves the frustration brought about by the addictive nature of social media. Robotic in nature this song really gets your speakers or your cans rattling. The message here is the need to put down your phone, tablet or laptop and go to sleep; however, there is always "one more thing" isn't there? Very poignant and followed in a sombre way by the closing splendour of
Autumn Left Again
a pun on the jazz standard
Autumn leaves
. I was struck by the sparseness and tranquillity thrown out in the mix by Doug Melbourne's soothing piano. Something not often found at the conclusion of such a powerful and diverse album, though reminders are present of what went before with some powerful subsonic punches. All in all there are some very pleasant reminders of era's gone by in
The Divide
yet it oozes contemporary styles and themes. Production is excellent and the care and attention to detail is evident from the first few bars of music to looking at Mark Duffy's complementary art work. I did have a problem with controlling the volume as it is one of those albums that has you turning it up and sharing the experience with neighbours who incidentally didn't complain instead wanting to know what I was playing! I suspect that the artists usual audience will bask in this new offering though I wager that
The Divide
may win them some new friends.
The Divide
represents a touch of excellence in a world of musical mediocrity and sterility. The boy from the Toon and the lad from Pinner did good. Divide What divide? The Divide will be released on June 28
th
2019 via Esoteric Recordings
CD and Mp3 download
Price to be confirmed.