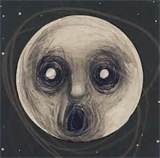 Steven Wilson has without doubt become one of the most respected musicians and technician in todays present progressive music scene. Not without good reason. Steven's ability to sprinkle fairy dust on all he touches. Long may it reign. Mr Wilson's last presentation the excellent Grace For Drowning was a resounding success and Steven set his own bar very high to jump over. His latest release The Raven That Refused To Sing has set the bar even higher. Following his now legendary format of dark and moody meanderings Steven Wilson has enlisted the help of Alan Parsons to produce the album and add a little kudos to the proceedings. As usual there are numerous format options as listed below. For the purpose of my review i will be predominantly drawing reference from the 180g vinyl record and the Blue-ray disc.
It has to be said that due to Steven Wilson's notoriety i dare say he could have opted to include a significant wealth of celebrity to the proceedings, however, he opted for staying with tried and tested quality musician which make up his touring band, themselves fast becoming musical celebrities. Opening gambit Luminol is testament to the skill, timing and alacrity. Throughout the album references can easily be drawn to many Prog favourites Luminol withstanding. Tempus Fugit by Yes springs to mind though Theo Travis soon brakes the connection with his jazz flute infusion and Nick Beggs powerful and steamroller bass playing making Chris Squire seam lightweight in comparison and some great Heart Of The Sunrise Mellotron flute. Adam Holzman's piano playing has a crispness about it that is mesmerising and is apparant thoughout the whole album and i have to admit i am becoming quite a fan. Guthrie Govan's guitar aiding a wonderful climax to the piece after which i think a fire extinguisher may have been needed.
Drive Home jams the breaks on and allows the listener to sample just how gifted that Steven Wilson and his hand picked musical guerillas actually are. Featuring proper strings by The London Session Orchestra. i am unsure who is to be credited for the subtle Fripp-like guitars on this song. who ever it was there medal is in the post. Absolutely gorgeous. i warn you though, once this song is in your head it will stay there for some time. Stunning! When you place a group of musicians of this caliber in the same room and record things in live takes you can be sured that something speacial will appear and it frequently does throughout this album. The Holy Drinker is one such event. King Crimson fans sit you down and enjoy. Mr Wilson taking on bass duties himself  and making a cracking job of it. Marco Minnemann displaying just what a powerhouse of a drummer he is here with some great Rhodes and Hammond from Adam Holzman too.
The slightly sweet yet dry vocals of Steven Wilson begins The Pin Drop before Theo Travis fires the starting pistol with some great clarinet launching the rest of the band into a head on assault. Yet again this driving power is slowed somewhat by the rather beautiful The Watchmaker. Reminding me of very early Genesis with it's beautifully picked acoustic guitar and lilting vocals and subtleties it really does have a lulling effect. Harmonies assisted by Jakko Jakszyk bridge the song up-tempo with the same chord structures as Shine On You Crazy Diamond  and finally backed with some great piano and drums.
The album culminates in the sad yet atmospheric The Raven That Refused To Sing. This really is a dark and sombre tail which depending on the format you buy becomes more apparant. There is an animation of the tail which lays bare the whole story. This is included on the DVD-V disc in the deluxe version. The song moves to a rousing climax assisted with real strings though just as i love the pianist gets the final notes backed with an I Robot chord. I wonder if that had anything to do with Mr Parsons? The vinyl version is a full 180g pressing which in my opinion sounds the most natural despite Marco Minneman's drums being a little subdued in the mix.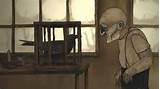 I am no fan of digital music though i have to concede that Blue-ray sound is without doubt the most acceptable and Steven Wilson's surround sound mix of this album sets new standards in this format, choosing to place musical instruments in solid places in the sound stage rather than merely exciting or titillating with shock and awe cymbal crashes etc. There is a documentary included filmed by Lasse Hoile which is well worth watching and alternative versions of most tracks. There is an onscreen image which constantly changes whilst you listen to the album, a very nice touch methinks. Which ever version you buy of the album it exudes quality. I have made no secret in the past that i failed to appreciate the Porcupine Tree years of Steven Wilson's career with the exception of The Sky Moves Sideways. The man himself would be horrified to hear me say it, but there are trace elements of that album here and i love them. Listening to The Raven That Refused To Sing (and other stories) reminded me of everything i love about Prog. Steven Wilson has created an acoustic Photoshop image of all that is good about it and brought it into a more contemporary setting making it enjoyable for those of us passionate about the origins and those young enough to appreciate something different. A modern musical masterpiece.
The myriad of options of this album range from CD to a rather nice deluxe boxed set of disc with a beautifully presented book. Check out the on-line store at www.swhq.com
CD £9
CD & DVD £12
Blue-ray £12
180g double vinyl LP £17
Deluxe box set £40
Box set of 10 guitar picks £10