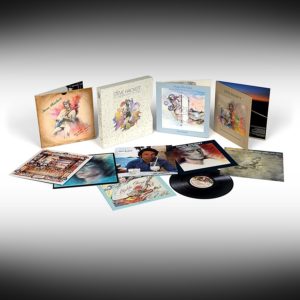 Being as i am a chap with mixed views with regards to box sets i seem to have assembled quite a few of them. Numerous Pink Floyd, Genesis and Transatlantic vinyl box sets adorn the shelves of my cave that's without the non Prog genre's. So why when i already own the whole of the Hackett back catalogue available on vinyl did i acquire this package of Mr Hackett's first six studio albums released on the Charisma label? Well, multiple reasons really the first being my original copies are somewhat in need of replacement due to being played to death. Secondly both Please Don't Touch and Spectral Mornings have been given the Steve Wilson stereo remix treatment which i believe were from original master tapes. The box set also contains a further three LP's, Live At Oxford, Live At Reading, and Live 79.
The first six albums with the exception of Please Don't Touch and Spectral Mornings are facsimiles of the original albums so of those albums i will focus on the the two above for obvious reasons. Steven Wilson who now enjoys legend status regarding the remix culture usually morphing classic albums into 5.1 surrounds sound. however, on this occasion he turns his gaze to simple two channel stereo. Notable differences are a better separation of tracks allowing nuances like effects and percussion instruments to be heard. Listening to the title track from thr album of the same name Please Don't Touch has a significant increase in depth and low frequency adding considerable heft. This was echoed throughout the Spectral Mornings album throughout tracks like Clocks and and The Angel Of Mons. I found myself rubbing my chin here when compared to my original pressing. The Wilson mix did seem to have more depth and space though ultimately the originals had grip and dynamics. I think in all honesty the jury is out here and it may come down to personal preference.
The first of the special edition live albums included Live At Oxford is well presented in a gate fold sleeve containing the concert over two heavy vinyl discs. Having attended a gig on the same tour as this albeit in the North East the album really did bring back some great memories. Evident throughout is the vintage keyboard sound of Nick Magnus especially clavinet. Pieces such as Spectral mornings with their lush, sumptuous Mellotron/Novatron backing sounded just as i remembered them and so far removed from the recent up front and in your face transients experienced at gigs nowadays. At the beginning of side three the aged instrument Optigan* is featured in the track of the same title. Please don't think there is a problem with your turntable as the sound is very compressed due to the nature of the instrument. Uncredited on the sleeve is the fact that A Tower Struck Down from the album Voyage Of The Acolyte is played during this piece. This isn't an album for audiophiles though as recording quality as good as it is simply fails the music. It must be taken into account that source materiel may well have been to blame. A great document of the period though.
Following suit with the Live At Oxford LP Live At The Reading Festival is presented in the same livery with a different picture on the front a sturdy gate fold sleeve and two heavy vinyl discs. Possessing a much more open sound than the previous live album above no doubt in part due to the open air festival nature of the event and different microphone techniques? Songs like The Air Conditioned Nightmare, Funny Feeling and Overnight Sleeper from Steve's Cured album hint at what the pieces would have sounded like had they employed a drummer for the original studio sessions. I found these songs to be a rare treat and i will be revisiting that album soon. Songs like Everyday and Spectral Mornings are a sheer joy to listen to. Ultimately it is the raw power and heft of the Defector album that drew my attention and made me think that my money had been well spent.
The third live disc in the set is what used to be referred to as a 12″ single or EP (extended play) This contains the old Genesis classic song from their Selling England By The Pound album I Know What I Like In Your Wardrobe. Not one of my favourite genesis pieces i have to confess though i can see this rendition pleasing the ardent fan. being 45 rpm seemed to lend a little crispness to the sound making it a little more acceptable than the other songs from the same show at Oxford and written about above. However, side two included a cracking live version of Ace Of Wands which captured  Nick Magnus's keyboards and John Shearer's powerful drums beautifully. Featured once more is the Optigan* on Sentimental Institution a little light heartedness methinks and a little fun thrown into the proceedings. The Red Flower Of Tachai Blooms Everywhere completes the disc and shows just how good boards man and John Hackett were live. Nick's atmospheric Novatron playing and John Hackett's flute simply meld into one. This disc was only marred by the overall compressed sound though the music did shine through and mad me smile at times.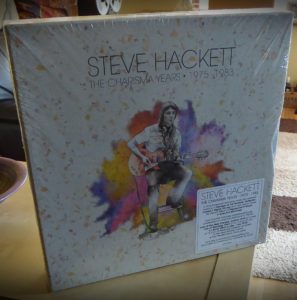 May appraisal of this album is this, worthy of consideration if A. Your original pressings have seen better days, B. you collect Hackett memorabilia, C. You enjoy archived live performances (especially on vinyl). The box set is beautifully presented in a firm card slipcase and contains a digital download key for each album. At £110 or there abouts depending on where you buy it from i consider The Charisma Years an investment. Nine albums (11 discs) on 180g heavy vinyl in a very nice presentation slipcase and a limited edition to boot, it's a no brainer. Great value and pride of ownership factor. All that's needed now is a heavy vinyl version of Dark Town and life for the Hackett  vinyl fan is complete.
*  https://en.wikipedia.org/wiki/Optigan
Available from Amazon £111.96 plus P+P