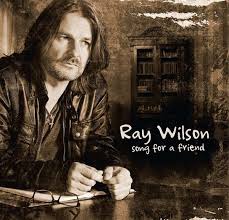 Ray Wilson is known by his enlightened followers as a prolific songwriter and powerful singer. i would have to agree with that. Until the delivery at Meister Towers of Ray's new album Song For A Friend i was one of the unenlightened. As quoted in the quality booklet included in this package Song For A Friend is music inspired by the many intimate experiences from his acoustic story telling concerts. Of course many people like myself remember Ray best for his stint with Genesis in the late nineties a period from which he emerged as an asset in the Genesis cannon though ultimately had been given a raw deal by them.
So, what we have here are ten finely crafted songs one of them being a cover. The simplicity of the songs leave lots of room in the soundstage for individual instruments to breathe given that most of the album is on the acoustic side. Getting the ball rolling is the almost period Genesis acoustic guitar sound intro to Old Book On A Shelf. The fist thing that grabs the listener is the crisp and clear sound quality with a sumptuous depth that i found mesmerising. A big up here to RPWL's Yogi Lang who made a magnificent job of mixing the album.
On first listening to this album it would be easy to focus too much on it's morose nature and brand it gloomy. Not so, these are songs about life and all that goes with it. Melody is not traded at all minor grey chords and downbeat sentiment. Instead the story telling nature of the songs overcompensate for dark titles and subject matter. For example Over My Dead Body which regales the tale of betrayal and bitterness beautifully executed lyrically and musically. Uwe Metzier's clean and incisive acoustic guitar  playing cuts away the aspect of misery here allowing the message to get through preventing the song from falling into the "I woke up this morning" blues aspect kicking in. All credit to him.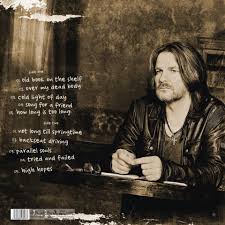 Aided and abetted by a great rhythm section Cold Light Of Day has a melodic lilt to it which unites Ray Wilson's band as a whole. Kool Lyczek's rich Hammond playing fills out the sound nicely here whist Ali Ferguson's country style guitar solo is a sheer delight. this song is definitely one of the highlights of the album for me highlighting Wilson's song writing and composing talents. This came to the fore in the biographical title song Song For A Friend. The actual melody reminded me of Hey There Delilah  by the Plain White T's. I confess to feeling quite emotional listening to this very dark and poignant song which i am sure which will touch on a lot of listeners childhood memories. It certainly did mine. once again this song was driven along smoothly by bassist Lawrie McMillan who majors big time on How Long Is Too Long. This is an uba smooth ballad complete with glassy sounding Strat. The warm and full sounding bass is best enjoyed on elaborate playback equipment to hear it at it's best. this song is a delight to listen to.
Continuing the ballad theme Not Long Till Springtime continues with Ray Wilson very much in reflective mode. Lots of great percussion and keyboard foundation here demonstrating composition which could easily be stripped down to play in any location either large scale in a full concert setting or as a one man pub/club performance. Many of these songs have the listener nodding in agreement with their life experience message and musicality. Backseat Driver being one such beast. Very much a folk idiom though a little more expansive as is the following song Parallel Souls Though a little more hard hitting. The penultimate song Tried And Failed has a little more of the protest in Wilson's voice. Very easy to sing along to with pacey strummed and beaten acoustic guitar driving the song along. Marcin Kajper's tenor sax adding a little pizazz to it's conclusion.
A big surprise to me was the simplified cover of Pink Floyd's High Hopes which i have to say is played with aplomb. Uwe Metzier's guitar solo being subtle rather than adventurous whist Kool Lyzek's supporting keyboards added all the support needed to enhance this very fine rendition of an already great piece of music. All in all Song For A Friend was a revelation to me. From my first listen in the car to being sat ln front of my Hi-Fi system to write my review. My original impression wasn't favourable as the album does have a dark cast on first hearing it. However, when you listen into these songs they all have substance which on reflection lifts away their bleak nature. One of the most thought provoking albums i have heard for a while. No pomposity or audio bunting just good old fashioned song writing and composition at it's best. Whilst Ray Wilson did not go on to make further albums with Genesis he can rest assured that his tenure with such an institution was better resigned to history given his talent as a great rock singer and songwriter in his own rite. If anyone was in any doubt then buy a copy of Song For A Friend post haste.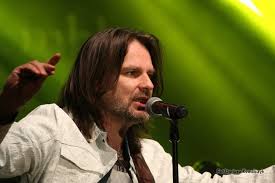 FMI visit www.raywilson.net
Song For A Friend is released on June 10th 2016 and available to pre-order via Ray's website for 15 Euro.