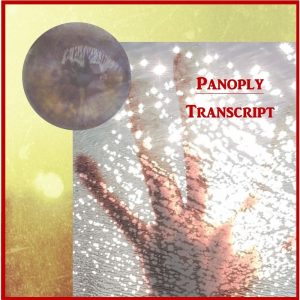 Panoply is the name used by one time Quasar guitarist Kevin Fitzgerald to channel his multi layered compositions of both long and short form musical sketches. According to my copy of The Little Oxford dictionary Panoply means "full armour, complete or splendid array". Indeed I can see why Kevin would use such a title as he presents all of his many skills to the full here though I was assured that no other artists with the name resided on Spotify and the like as being another reason. There are many artists out there who with the aid of modern recording techniques in the home studio record solo projects and by that I mean in solitude without any outside input from other musicians, producer's technicians etc. I have to admit that usually these home rock and pop stars are instantly recognized as such.  It was plain to hear from the first few drones and bars of Transcript that Kevin Fitzgerald isn't as instantly recognizable as such a hopeful exponent of such attempts.
Instead the seven pieces that represent Transcript Kevin's second of such forays displays a refreshing competence that many such aural assailants can only aspire to. Looking through the obvious flaws of recording without the benefit of other musicians such as a rhythm section does present the artist with the need to turn to other methods. Usually this manifests itself in the drum section. No change here I'm afraid though the music as a whole and the quality of the compositions carry all themes and melodies to a comfortable conclusion. Transcript isn't a rock, funk, metal, or jazz side of Prog instead the pieces lend themselves to more free form compositions of which I love. These are often found in TV, film and radio as incidental music. Both long and short form formats are to be found throughout which again I found refreshing and none taxing. All of the pieces are easy on the ear and easily warmed to.
From the get go the cinematic one minute introductory drone of Five Steps To Nowhere suck the listener in until a clavinet pad drives the music into a thematic synthesizer run leading to a tranquil piano thereafter moving headlong into a tight and well-focused guitar break. I would presume without the artist's confirmation that the title of the piece is derived from the fact that it presents itself as five movements? As a whole Five Steps To Nowhere presents itself as a prelude or even a taster are establishing themes and musical livery for Panoply. Keyboard sound especially synthesizer are marred only by the presence of virtual drums though in the long term Kevin Fitzgerald's deft of touch with all other aspects within the recording overcomes what is a minor blemish on an otherwise captive experience. Lush synth swathes and a sweet piano motif begin a cheeky vibe/synth driven piece entitled Shuffle To The Edge. Possessing a Gary Wright rasping synth bass growl and some Mike Oldfield-like guitar licks this piece has flow. The fanfare of trumpet synth pads and energetic drum patterns bring a pleasing close to an equally pleasing listen.
Later is steeped in atmosphere, soft keyboard pads lead into piano and crisp acoustic guitar. Despite not having the full on Vangelis grandeur, Later seems for this listener to give out a Blade Runner vibe and all the better for it.  The mood is continued in Triple Point with its Brubeck Take Five kind of piano intro and some fine synth backing and once again that exciting rasping synth bass. The trumpet effect once again here is used to its full and benefits from great chord structure, timing and poise. Guitar cuts through the mix making this my favourite piece on the album.  In contrast Keeping Time introduces a quaint acoustic guitar piece creating a pause from the predominantly keyboard driven extravaganzas its brevity giving way to the more long form outing Terra Firma. The longest piece to be included here leans more towards the Steve Hackett and Andy Latimer (Camel) style of guitar playing drawing out the player's influences with its alternating technique and tempo. The choice of keyboard sounds here bolsters the blistering guitar throughout the eleven minute opus. The acoustic guitar segment of this piece is a pure joy.
To finish Transcript Kevin elected to use a huge keyboard orchestration once again with impressive chord progression and powerful crescendo in the form of At Dusk. A fitting outro methinks to a strong compendium of themes and memorable, quirky tunes. As good as this album is I can't help thinking what a killer it would be with a proper drummer onboard. Based on sales and success of this album Kevin Fitzgerald is considering some live performances. If this is so then count me in. Transcript is available as download on all the usual platforms Spotify, i-Tunes, apple music, Google Play, Tidal, deezer, Medianet, napster and  iHeartRADIO for 99p per track or CD from the Panoply store for £7.99. https://www.panoply-music.com/shop