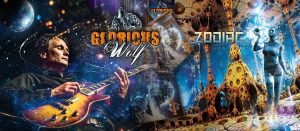 Glorious Wolf is the name under which guitarist and multi-instrumentalist Ruud Dielen records some interesting and beguiling music. Ruud contacted me some time ago informing me of an album he was working on and kindly sent me some tasters. So intriguing were they that I played them on my show on www.progzilla.com   . Hailing from the Netherlands Ruud's compositions exude that Euro-Prog flavor, think Focus, Kraan, Can et al. A few months down the line from receiving these tracks as a couple of Mp3's, imagine my surprise when on the hall mat was a CD size package from Holland for the attention of The Progmeister? On prizing open the cardboard cocoon out emerged Ruud's new creation Zodiac. Shrouded in appropriate livery courtesy of the talented Ed Unitsky the album is beautifully packaged and oozes quality.
Zodiac was recorded in Ruud's semi-professional studio though it was mastered by award winning producer/engineer Oscar Holleman. There are some familiar keyboard sounds of yore throughout the album giving that Proggy feel of the seventies being as some of them are bathed in swirling string machine, Mellotron and Hammond. Vocal duty is taken on predominantly by Oscar Anema with the exception of the song Poets which is sung by Frans Verouden.  From the off Zodiac merges simplicity with complex time signatures as befits the oddity of the genre revered my too few. Beginning with the longest piece of the album at 11 minutes 8 seconds it would be easy to think that the stall was being set out by the lengthy Constellations though sufficient diversity exist throughout the collection of songs offsetting my view. Though the title of the album would suggest that each of the songs represents astrological signs only tenuous links prevail.
There's no bones about it lengthy opener Constellations wares its Pink Floyd heart on its sleeve right down to its Animals like bass line though vocal wise the song leans more toward The Doors and Hendrix with a great saxophone break by Andre Van Deven.  My only observation on the negative side is that the drum patterns and sound tends to be a little robotic at times throughout the album though it didn't deter me in any way from enjoying the music as a whole. Close To The New World heralds a softer and more subtle approach than the opening epic giving the first hint of Ruud Dielen's blues leanings.  Oscar Anema's voice lends a sleepy feel to the song which in the first instance I found soothing. The song is further rendered sedate with some sweet harmonic synth pads until around two and a half minutes in when following an acoustic guitar bridge turns into a more rockier pace with some mean guitar licks before returning to its more somber beginning.
The title song Zodiac reminded me very much of Blur though I found Oscar Anema's voice alternating between Damon Albarn and Jim Morrison at times especially during the darker elements of the song. There is great Mellotron choir and bass synth adding to the atmosphere of the piece with some quirky use of wah wah pedal. In contrast the fresh and crisp acoustic guitar intro of the David Sylvian cover, Poets makes use of some harmonics and tapping in a flamenco style whilst singer Frans Verouden injects a little of Sylvian's original style. The song tackles the bleak view of domestic violence and listening recently to the original verion which can be found on David Sylvian's album Secrets Of The Beehive I can confirm that this is an excellent cover.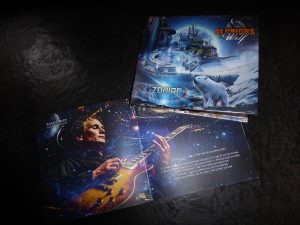 Blues appears to be Ruud Dielen's forte and Feelin Blue does what it says on the tin as it were. Being an unadulterated blues piece complete with the traditional Hammond organ sound backing his best licks Ruud is accompanied by Ab Boot playing fretless bass whilst Oscar Anema moves into full blues club mode.  One of the highlights of the album for me though is instrumental piece For You And I. A summery side to Ruud's playing. This piece moves away from the all-out Prog sound to a style more in the jazz fusion area though I can hear Jan Ackerman creeping in from time to time. Once again I have to give credit to Ruud for the keyboard sounds he used and a sweet albeit far too brief synth solo towards the end.
Available from Bandcamp an CD Baby as both Download and CD.
Download 9.99Euro
CD 12.99Euro.