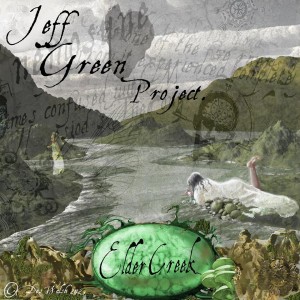 2014 seems to be getting off to a slow start compared to the epic 2013 year of Prog. Many of the projects i am eagerly awaiting are still in the pipeline. The first one to come to fruition is the long awaited album from the now legendary Jeff Green. Jeff's first album "Jessica" was a very personal journey and one close to his heart. Elder Creek is another such journey and none the less emotional and thought provoking. The foundations for this abum had firmly been laid with Jeff's first project and all the vital tools and personnel were already in place.
Jeff's modesty prevents him from wanting to label Elder Creek a solo album though without him there would not be the calibre of the songs or indeed the subject matter to base them upon as well as some great guitar playing. Jeff's collaboration with keys man Mike Stobbie seems even closer than the previous album and i have to say i was blown away by Jeff and Mike's musical synergy throughout the whole album. Elder Creek is very nicely packaged with a beautifully put together booklet which includes a full explanation of the inspiration behind the six songs and one instrumental that make up this album.
Theseus Falls sets the ball rolling with a rather pleasing soundscape (Entrance) followed by the big, bold, solid sound of the second movement (Questions) where both Jeff and Mike Stobbie set out there stall with some wicked guitar and Mini Moog. Jeff's vocals and harmonies with Gareth Hicklin really do make this a worthy opening gambit. Jeff draws on many influences throughout Elder Creek and this can be heard in the third and final part (Exit) which has some classy Steve Howe-like acoustic guitar in the mix.
The samples and sounds that appear in the link between Theseus Falls and the title track reminded me very much of something from a Supertramp album. Following it's conclusion a smile appeared on my face as i was greeted with a song i first heard being played live at Progmeister2, the title song Elder Creek. And what a great song it is too? Powerful, tight, with a great musicality about it. A great guest appearance by Sean Filkins who is in fine voice along with Jeff delivery some great vocals. The slick guitar licks where carried throughout by Pete Riley's rock solid drums and Andy Staples mint, nimble bass playing which indeed are the bedrock of the whole album. Some great Mellotron sounds here too.
Our First Meeting finds Jeff Green in a lighter yet more soulful mood to begin with, his singing like a softer version of Jon Bon Jovi (no doubt some will disagree) What hit me smack in the face throughout this song was Mike Stobbie's second to none use of vintage keys and keys sounds. Mini Moog and Mellotron here simply amazing coupled with Jeff Green's guitar lighting the way and leading into the only instrumental piece an the album Point Blunt Light. This really is special to someone like me who has a penchant for the smooth west coast sounds of Larry Carlton and Lee Ritenour.
I would describe the first half of Point Blunt Light as simply beautiful whist the remainder a veritable Yes fest complete with jeff's wonderful mandolin playing and Mike Stobbie's Moog, Hammond and Mellotron barrage. I think this piece will really send the shivers down the spine of most Progheads, it did mine!
Once again soliciting the help of Ilegal Eagle Gareth Hicklin who's emotive renderings add impetus and a sense of urgency to the erratic interpretation of a confused state of mind and malfunctioning brain, is laid bare in the blinding song Gordian Knot. Phil Hilborne lay's down a cracking guitar solo that really does get your feet shuffling and leaves you wanting more. I would advise everyone to read Jeff's sleeve notes to fully appreciate just what this song is all about.
In contrast, yet again the delicate majority and serenity of Loops And Threads is laced with the dark low frequencies and aggressive depths of traditional Prog landscapes whilst upholding a light airy feel with a deft of touch. Up until this point all of the tracks included on the album have been no longer than 8:18 minutes long. The concluding opus A Long Time From Now rolls out at a wopping 20:o5 and is a fitting finale. Split into no less than seven segments this song is a credit to Jeff and his ensemble as it combines just about everything i simply adore about this genre of music. It's eclecticism, drama, precision and intrigue all honed into this twenty minute conclusion rendered with skill and panache.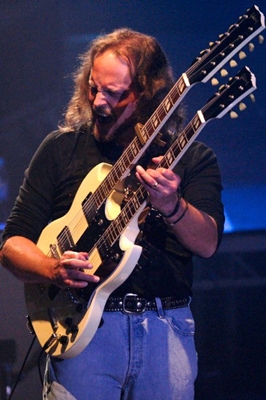 Mike Stobbie's Emersonesque Hammond and Jeff Green's rockier guitar style are a match made in heaven here and before i knew it i was jabbing kives into my coffee table. Another master stroke here was including ex Pallace singer Alan Reed for whom i have a tremendous amount of respect. His vocal style part way through this song added vim and vigour and along with all of the other musicians contributing so heavily at this point gave an all hands to the pump feel about it. It really does leave you with the need for a cool drink.
Jeff Green is a man and musician whom i have the greatest respect for. He set his own bar very high with his deeply personal and musically pleasing debut album Jessica. Jeff has exceeded all expectations here with an album that starts the musical calander for 2014. The eclat of all seven songs, the recording and sound quality of the finished product all go to make this a very special package indeed. The very subject of Alzheimer's and dementure is rarely explored in musical terms and it is ti Jeff's credit he has done so. It lay's bare many of the foibles around disease and is educational in many ways.  Music is a very powerful medium.
In conclusion i can't stress how proud i am to have showcased some of the music from Elder Creek at Progmeister2. That was some time ago and proof that Jeff Green does not rush the recording or creative process and it is evident when listening to the quality on every level here. Do i recommend Elder Creek?  Damned right i do!  The boy from Sacramento done good.