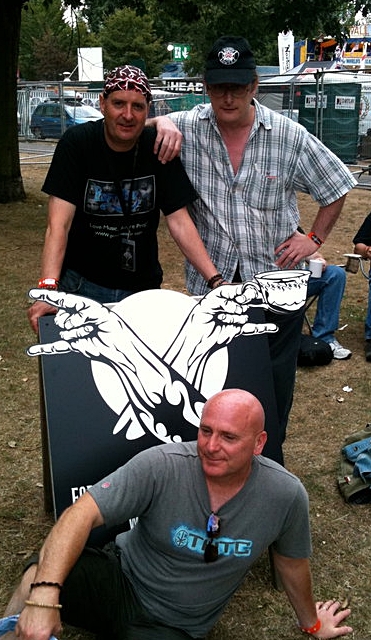 My tired bones are just in the process of regaining normality after one of the best weekends i have spent for many years. The High Voltage Festival in London's Victoria Park was without doubt one of the best musical events that i have ever attended. Having arrived in good time to gain entry we queued with the other disciples clocking one another's t-shirts. A culture which seems to be quite tribal at such huge outdoor events. Touchstone took to the stage before everyone had chance to gain admission. A mammoth task for organisers i am sure, searching, and checking such a huge body of people. We did manage to catch most of their set though and they were excellent. A very worthy opening band for such a huge event. Pendragon took to the stage at 13:20 and played a blinding set. As the sun beat down (no pun intended) and amidst very humid conditions they palyed some of thie most recent material though for me it was master of illusion that i enjoyed most.
They finished their set by announcing that "Only Prog Can Save Us Now", a maxim that I will take with me to the grave. The technical hardware of Pendragon was quickly tidied away by the tremendous and extremely hard working stage crew to be replaced with a far less elaborate and fairly low tech set up as Focus prepared for their turn.
Thijs Van Leer chopped at an ageing Hammond organ and checked the sound levels of his flute before launching into Focus 3. Looking a little bit like the Frank Carson of the keyboards he had the audience in the palm of his hand. Playing such classics as Tommy, Sylvia, House Of The Kings and of course Hocus Pocus the band seemed top make the sun shine even more. I was sad to see them leave the stage.
As the crew did their thing and prepared for Bigelf we decided to duck out for food and beer whilst we watched Gary Moore doing his thing on the main stage. Definitely a crowd pleaser Gary and his band played a good set and were very entertaining. As we made our way back to the Prog stage via the beer tent and urinary village we were treated to the delights of Dweezil Zappa. At first i was unsure and for a brief few moments went to check out the hammer stage. I was drawn back to Mr Zappa as i was betwixed the two stages and i have to say both him and his band were excellent. By the time they had finished their incredible set i honestly felt that i had been given more than my money's worth. I was and still am unfamilier with any of the materiel that they played but it didn't spoil my enjoyment at all. One of my friends commented that he would be buying tickets to see the band on tour.
As the heat of the afternoon took it's toll we retreated beneath the huge tree beside the stage and consumed yet more larger whilst we watched Asia's tools being assembled.
Introduced by no less than Roger Dean himself they played the best set i have ever seen them play. All the faves were here playing most of their first album, Sole Survivor, One Step Closer,Wildest Dreams, Heat of The Moment and many more. Of the newer pieces An Extraordinary Life ticked all the boxes for me. Consumate professionals. There was of course the obligatory Palmer drum solo but in my opinion the band were so tight and working with such synergy that no one member could be identified as better than the other, absolutely blinding. Time for tea and a vist to the bar before Transatlantic completed the running of the day on the Prog stage.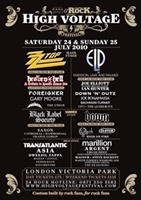 We took a little time out and visited some of the many attractions. Classic cars and motor bikes, Wall Of Death as well as many of the eateries stationed perfectly for all three stages.
Not being too au fait with the music of Transatlantic i was looking forward to hearing just what they were all about. I was totally amazed. The opening song totalled up to about 77 minutes and was amazing. Having only seen Neil Morse play with Spocks Beard iwas surprised at his competance with regard to his instruments. Probably one of the most enigmatic men of the festival. Portnoy's drums as powerful as ever they left the crowd breathless. The highlight of their performance for me was that as everyone was walking away thinking that they had left the stage for the last time, they returned with Steve Hackett and played "The Return Of The Giant Hogweed" Astounding.
By this time my aching legs were reminding me that i'm not getting any younger. We had one last walk North to the main stage to catch a little of the ZZ Top set. After ten minutes we decided to retire. I don't think my comments about ZZ Top's performance would be appreciated so i will keep them to myself. Let's just say that we three amigo's were very underwhelmed.
After a few ours of sleep and some paracetamols it was back through the streets of Hackney to Victoria Park.
No such problems getting in as the previous day which allowed us to catch the Reasoning in their entirety. They were excellent and just like Touchstone the day before a fantastic opening act.
Again, a band who's material i am unfamiliar with. I intend to put that right though. They were brilliant. Easy on the eye too. To some peoples bewilderment Martin Turner's Wishbone Ash were on next. Anyone like myself who had bought a laniard were expecting Steve Hackett. For some reason the order had been changed to that of the original as advertised on the High Voltage site. I was a bit confused as to why Wishbone Ash were appearing on the Prog stage. I would have though they were more classic rock or indeed blues. Half way through their set however the need for all things to sustain us took priority and we had to leave what sounded like a really good entertaining set.
It was on our quest for food and rest that we happened upon a little oasis in the trees called Motley Brew. I was approached and asked if i would like to join their facebook. Most importantly to me was it had seats and sold proper tea for £1 per mug. Such a contrast to the expensive surroundings. Right next door to them was Osteorox a team of trained chiropractors who seemed very bust tending to peoples aching necks,backs arms, you name it. I was seriously considering some treatment. Sound them out. Indeed sound out Motley Brew on face book. They're diamond geezers.
Wending our way back to the brog stage full of burgers and chicken we witnessed the awesome Steve Hackett.
I have seen Steve many times in concert with many configurations of personnel. With exception of the Nick Magnus years it was the most exciting,interesting and diverse i have ever seen him and his band. Starting the set with Everyday and Ace Of Wands Steve was on to a winner. Moving through newer material such as fire on the moon to a medley of Genesis pieces. Nick Beggs seemed to have many of the crowd intrigued with his garb. Black leather waist coat c/w matching pleated kilt like skirt Nick's bass playing beggered belief. Much more at home with playing the bass pedals too that Steve previous bass man. For me and the boys Hackett and his exceptional band were the highlight.
Uriah Heep followed Steve playing their Demons and Wizard's album in it's entirity. And very good they were too. Watching them made me think of spinal tap type rockers. These guys were the real deal. The crowd were very appreciative of their heroes performance and quite rightly too. They were great. I think they fulfilled many nostalgia fixes. As hard as the act was to follow Argent did it admirably. Starting off with it's only money and working through some great Russ Ballard compositions such as God Gave Rock N Roll To You and many more. I particularly enjoyed I Don't Believe In Miracles and Hold Your Head High. Ultimately though it was She's Not There that won the day for me. Not strictly prog though, more classic rock. Although that Argent did have foray's into prog with perhaps the Circus album this was definately a set to motivate the crowd and it did just that.
As afternoon moved to teatime it was food and back to Motley bew's for more tea, a flapjack and a sit down before heading to the prog stage for the last time. Marillion had without doubt drawn the largest audience to the Prog stage and opened with a blinding segment of their Marbles album. Unfortunately it was always on the cards that i would be unable to see their complete set due to an overlap of E.L.P.'s performance on the main stage. I am reliably informed by others that they were magnificent. So much about any festival is compromise. You can't be in two places at once and i felt it more important to go and stake my pitch up front to see may heroes. Fortunately for us all, Marillion's set was recorded and filmed.
When we got to the main stage the previous act to E.L.P were still playing. There seemed to be confusion as to when to stop playing. As Joe elliott/Ian Hunter and the down n outs were asked to leave the stage because their alloted time was up there seemed to be a little friction which spilled out back stage. Some members of the crowd witnessed the ensuing tantrums and throwing of a guitar. Well, it is rock and roll.
As the evening grew darker and E.L.P.'s equipment was finely tuned and tweaked the tension was rising.And then Keith Emerson followed by his partners in crime walked calmly onto the stage and took up their stations. As they blasted their way through Karnevil 9 it was evident that they were setting themselves a more manageable pace than in previous performances. Quite rightly too. Going back right in time for the second piece of the night the three Fates plodded a little bit before getting there wings for Bitches Crystal. Knife Edge was the first time in the evening at just how low Greg Lakes voice can go and as a contrast in the next song From The Beginning just how pure his voice still is. Without doubt the best i have heard this particular son. It was beautiful. The band did not disappoint on many levels though it was plain to see to all that Keith Emerson struggled with the disability in his left hand. This in no way removed him from hero status in my mind because the newly freshened Tarkus was a joy to behold. The opus of Pictures At An Exhibition was a work of genious. Again show casing Gregs pure yet powerful voice.
The residence of Hackney would have no doubt thought that they were under invasion as air raid sirens and extremely loud cannons being fired during and completing this piece thundered out across the park. Coming back to the stage following a lot of clapping, shouting and cheering the three pioneers of prog give the baying crowd a treat as they played Fanfare for the common man during which Carl Palmer played his second drum solo of the festival this time on a rotating kit. Mr Emerson also demolished his aging Hammond with some gymnastics and a couple of carving knives. A fitting end to the inaugural High Voltage festival. A simply must attend even for any prog fan. There was something there for everyone. There was a few minor glitches over the weekend that amounted to nothing.
One of the best organised and run festivals the you could possibly go to. Even the toilets were good. Kep your eyes peeled for next year. I returned home tired and worn out thinking to myself "When do i go back"? "I'll be there, i'll be there i will be there"
Some pictures of the high points taken by Ian Kerr. Unfortunately none of the E.L.P. pictures turned out very well.
For me – the highlight of the whole festival – was of course Steve Hackett!