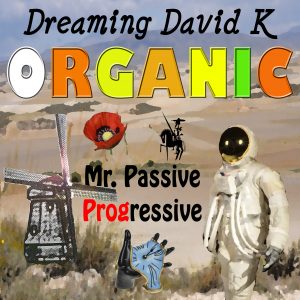 Within certain genres of music if you aren't one of the upper echelons then it is difficult in the present climate to make your mark. With what many know as Prog or Prog Rock it began with E.L.P.  Pink Floyd, Yes, Genesis and King Crimson. Their legacy continues with band like IQ, Marillion, Pendragon and The Tangent who all bare the hallmarks of their forbears. Yet even in the present climate there are talented musicians and bands screaming to be heard who without the kudos and media coverage, heritage and reputation of the more well-known artists struggle to raise their profile above that of social media. It has never been as tough for musicians to do this and for all professional musicians to make a living through their creativity. One such artist/band that need to be heard is Dreaming David K & Organic. Throwing out more than a nod and a wink to most of the above with a new album
Mr Passive Progressive.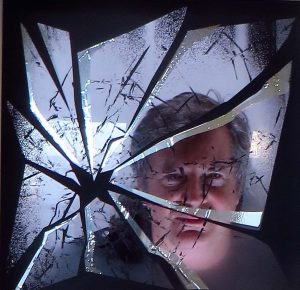 The band is headed up by David Koracevic (David K in the equation)-lead vocals/Synthesizers/organ/piano/sound effects, Marco Magnani-Guitars/bass, Alexander Savva-drums and percussion and Gavin Beckwith-Lead and harmony guitar/bass/penny whistle and violin. These form the main nucleus of the band though a cast of supporting musicians include Ian Bally-Flute/saxophone, Jo Devall-vocals, Ed Bandstead-trumpets, Geoff Duckworth-flute, Michael Scott-6 and 12 string acoustic guitars and electric guitar and Jerome Bannigan who provides second drums on some songs in an early Genesis live configuration. All seasoned players David K himself having served a tenure with post punk rockers Killing Joke lend a very musical feel to all of the songs and veer from time to time from the righteous path of Prog into electro/synth pop and even tinges of folk.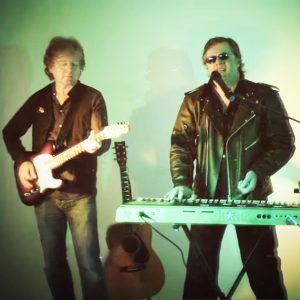 Opening the album with the never more poignant
Save The Human
the swathes of synth and Spanish guitar soon give way to a rockier, hard hitting plea highlighting the massive human and environmental crisis we find ourselves in. Gavin Beckwith's guitar adds extra grip to David K's excellent keyboard foray's whilst drums and bass give an almost sense of relief that they are the real thing helping full band sound rather than a one-man army. This continues into
Lost In Space,
touted as a single with its own YouTube video and sporting a second drummer Jerome Bannigan to add further weight and pace to the piece. A little flute is thrown into the mix courtesy of Ian Bailey lightening the sound a shade. There is even a pause for Gavin Beckwith to introduce just a hint of violin to the mix too. "Cosmic man", as the title suggests. Instantly loveable and very well-orchestrated. There are quite a few moments throughout the album where familiar musical passages and themes emerge, one of them being
A Prayer.
Borrowing a little of Mike Oldfield's Tubular bells theme (unintendedly I suspect)
A Prayer
exudes a vibrant sound full of interesting sounds like an electric sitar sound which I am informed is created with a homemade guitar synth whilst David K plays a crisp electric piano and synth. Celestial voice is provided by Jo Devall who lends a spiritual feel theme as the title of the song would suggest. In sharp contrast
Personality Game
melds genres to create a variety pack of styles contained within one song. Once again, some great keys though I have to admit to being fooled by the jaunty synth motifs into thinking it was more a Eurovision style piece rather than a Prog, rock or standard pop song. The spoken word explains the premise of the song and the previous electro build up dies to a meaningful electric folk pastiche in the vein of Donavan et al. Darkness prevails though hidden withing the lyrics exploring the grey part of the human condition lightened only by the tenor sax and trumpet.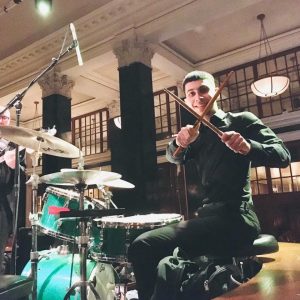 The Big Picture
finds David K questioning the whole of our being and perhaps the meaning of life? The timbre of a real baby Grand piano intro is beautifully recorded with a reprise of earlier themes in true Prog tradition. This song highlights the splendour and fluidity of David K's piano playing too. However, moving into a more rock idiom
Topsy Turvy Lady
brings with it a little light hearted humour just as many E.L P. albums used to do with the likes of
Benny The Bouncer
and
The Sheriff.
Ed Banstead's trumpet gives a jazz band feel towards the song's conclusion which left a smile on my face. Turning into a more serious mode
In The Moment
finds David K back at the baby grand to introduce a tranquil opening to yet another poignant lyrical loaded song. Along with flute and electric piano there is even a nod and a wink to the Genesis classic
The Knife
though this may be more obvious to the listener rather than the recording artist? The message contained within the lyrics may be simply live for the moment and make the most of what we have?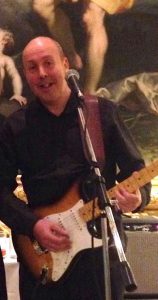 Its Electric
introduces an Andalusian vibe with its choppy sound aided and abetted trumpet and sax. Though lyrically sparse
Its Electric
showcases the talents of the band in a predominantly "well err", electric manner. The Spanish/Mexican theme continues in a grander style with
Don Quixote
turning the dark tales of the character of Miguel de Cervantas ancient novel into a musical interpretation. Amidst the grandeur of such an epic yet another Genesis classic is revisited with a riff remarkably similar to the crescendo of the much-revered
Musical Box.
There is a fair dose of Spaghetti western going on here and I for one simply loved it. A reprise of earlier themes like
Lost In Space
and
A Prayer
can be found in the all too brief
Time Is Shallow
This song seems to serve as consolidation for all that has gone thus far in its somewhat dark brevity. In addition, the piece can be viewed as bridge to the finale
One Last Chance.
As the old saying goes, "they saved the best till last".
One Last Chance
really does have a hit single about it. There is a fabulous guitar break at approximately 3:06 which reminded me very mush of Andy Latimer of Camel's style. A big up to Gavin Beckwith for that and indeed the rest of the supporting cast.
One Last Chance
is a huge plea shared by many I suspect and can be taken on so many levels. Personally, collectively or on someone's behalf about so many issues. A fantastic way to end a highly musically charged endeavour.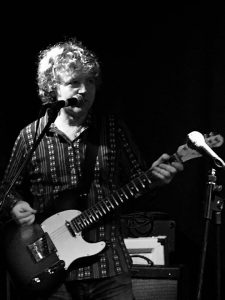 In an age where the music industry is governed by commerce and the ability to sell units to the mass audience it is refreshing to hear small independent artists purveying music of such imagination and quality.
Mr Passive Progressive
may not be accompanied by expensive artwork and or packaging costing the prospective buyer a small fortune, but what it does have in spades is musicality. I would strongly recommend this album in what ever guise you decide to consume your music. I found joy in equal measures whether listening to the CD on my hi-fi or the Mp3 files from my tablet/laptop etc. From David Kovacevic's beginnings in a Prog band at school through his post punk tenure with Killing Joke he has come full circle claiming "I have been dreaming up this music since I was a teenager" he writes on the CD insert. Listening to this collection of impassioned songs wearing their influences on their sleeves I can well believe it.  A breath of fresh air. You can buy the handmade CD here for £10 including postage and find out all you need to know……
https://www.dreamingdavidk.com/
https://music.apple.com/gb/album/mr-passive-progressive/1507728410
Watch
Lost In Space
here……
https://www.youtube.com/watch?v=IXCmG6amUMw