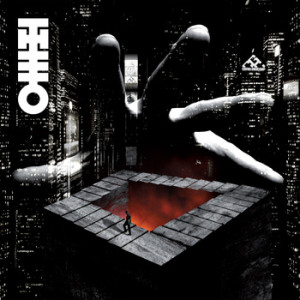 During the down time of Progmeister i we received a few albums for review that could not for technical reasons be reported on, This allowed more time than normal to listen to those albums that are to make it onto the review page. The one one that became the most addictive is The Game Of Ouroboros by Theo. Theo is a project headed up by American boards man Jim Alfredson who happens to have been on my radar for quite some time. Jim is a gifted jazz Hammond player as well as a great all round jobbing keyboard player. Here Jim has assembled a team of talented musicians to record an album influenced by the likes of Gentle Giant, E.L.P. Genesis and all of the usual suspects.
Jim was kind enough to answer some of the questions i had about the album via social media so i would like to thank him for that. I asked him the most obvious question first and informed of the premise behind the first three tracks on the album. Ouroboros being the sign of the serpent eating it's own tail represents the sustainability of what our governments and indeed ourselves are doing to society and cultures. The songs have an Orwellian feel to them and this was confirmed when i contacted Jim. The telephone messages between the first three songs are thought provoking and really bring it home as to how invasive outside agencies are in our everyday lives.
Nicely packaged and presented it is easy to see that a lot of thought has gone into the project and from the dramatic intro to the last note of the album kept me riveted. The opening song The Game Of Ouroboros emerges from a swell of keyboard effects to a great rhythm with some heavy toms being used here and throughout the album by youthful drummer kevin DePree. Keyboard soloing is what you would expect  from someone with such a pedigree as Jim Alfredson and he doesn't disappoint. Guitar on this song thanks to Zach Zunis cuts through the soundstage like a sharp knife through cheese. The sound effect of  flies  buzzing around does lend a further apocalyptic atmosphere and at one stage takes on a Roger Waters like solemnity. Bolstered by Moog bass the musical interludes especially Jim's excellent 1954 Hammond C2 playing are balls to the wall and an absolute joy and had me reaching for my air keyboard.
Coming down from this rather splendid musical outing is The Blood That Floats My Throne. A Tangerine Dream Moog sequencer sound underpinned yet again by some awesome Hammond and Moog Voyager solo is stark contrast from Jim Alfredson's eerie almost sinister voice which warns about the power and consequences of greed. Given what is happening within our culture at the present time this song has left a lasting impression on me.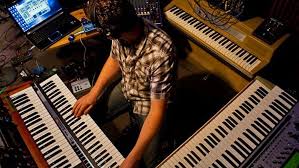 The last of the conceptual songs on the album is Creatures Of Our Comfort hammers out an almost reggae rhythm bringing to the fore kevin DePree's fluid and effortless drum style. Indeed throughout the album drums have a natural reality about them further enhancing the whole presentation of the album. This piece is terminated by a telephone message similar to the one that opened the album bringing to an end the mini opera about life in the 21st century and what it has become.
Moving onto the stand alone songs on the album These Are The Simple Things brings down the pace with a lilting piano and the sumptuous bass paling of Gary Davenport. This song in relation to the other pieces on the album is a delightful bout of melancholy enhanced by some great backing vocals and Moog Voyager soloing. The restful nature of this tune is perfect preparation for the following mini opus Idle Worship. Possessing a great vibe about it Idle Worship despite being very American in nature and deed reminded me on many levels of the past lamented Genesis song Cinema Show. I refer to the songs meaning and musical structure rather than it's overall sound of course. Jake Reichbart's guitar adds impetus to this quirky piece dealing with a tail of football worship. A great play on words too between idle and idol. Following the lyrical part of the song a gospel sounding organ embarks on a lengthy and hugely enjoyable musical interlude demonstrating Jim's prog influences including Genesis, Caravan and Camel to name but a few. Great Rhodes solo and Jim's jazz background plain to hear.
Concluding the album is Exile. You would not be mistaken for thinking such a title has biblical connotations and i received a comprehensive explanation of the songs lyrical content which is influenced by the bible story of Ham.  Musically the piece is as epic as the title would suggest and i was enchanted my the ARP synth sound about eight minutes into the piece and great rhythm guitar playing my Greg Nagy. A fitting conclusion to a great album of a more traditional style of Prog. I found myself wanting more and what better way than just to play the album again and again. I think this kind of says everything? recommended? Undoubtedly!
FMI….