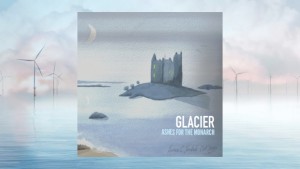 Ever been in a club and a band has taken to the stage which makes you put down your drink and sit in amazement? Or been to watch a major band and been blown away by the support act?  Well, Glacier are one such band. It was so many years ago now that i first saw Glacier i can't even remember where it was. I was told to attend by a close friend who i remember saying "yer gotta see these boys, they're absolutely brilliant". I did and they were. A few years later i watched the band support a major act and on leaving the show asked by sons what they thought. They both said Not bad, but Glacier were much better.
The bands first album Monument fast became a favourite of mine and waited in anticipation for fourteen years until the band finally released a follow up. Ashes For The Monarch is Glacier's second album and benefits in certain ways of being in the musical slow cooker for as long. Dated? yes, contrived? yes, massively enjoyable? absolutely. If you enjoy music that leaves a lot of it's meaning to your own interpretation then Ashes For The Monarch should be considered an investment. Packaging is second to none and both the cover art work and booklet photography are top notch.
Kicking off the album following the obligatory Prog intro is Whichone, a powerful and foot tapping little number which despite the processed drums at the beginning grows into driving tour de force, Bob Mulvey's bass laying down a great platform for the band to swim from. John Youdale's blinding guitar break giving healthy hints of what is to come throughout the album.
Continuing the high octane Prog formula Hell And High Water Dave Birdsall's lyrical delivery takes on a Gilbert & Sullivan operatic presentation and at times reminds me of John Young of Lifesigns fame. Guitar and bass yet again forming the backbone of the piece. Great bass pedals for the seismic audio fiends and solid drums courtesy of Greame Ash. The album flows nicely and Bob Mulvey's pleasing John Cleese impression melds the song nicely into Projections, a song that deals with the complexed and fascinating subject of dreams.
Split into three parts the song has John Youdale utilizing an ebow backed by some great chorale keys sounds. The sound as a whole gives the impression of Steve Hackett of yore which is enough to bring a smile to anyones face and lends a very nostalgic feel to the whole proceedings. It seems however that the BBC sound effects department may well have been drafted in to provide the dentists drill et al which is a the work of a brave man or a fool. The use of sound effects through out the album is without doubt excessive and on this particular piece represents all out overkill. A minor observation in the overall musical picture though.
Dave Birdsall resumed his Prog opera role for Garden Of Evil and to his credit always stays true to his vocal style. Dave never emulates the obvious contenders in search of true authenticity. Dave is as much part of the Glacier sound as the quirky effects and fleet of foot of the compositions themselves. Dave's voice has passion, soul and ultimately, impact. Fans of early seventies Prog standards may well enjoy this song which includes Gemma Elysee contributing  violin which added a different and welcome dimension.
Bringing down the tempo guitarist John Youdale delivers a lilting and beautiful nylon guitar piece Lightwing. The depth and breadth of this interlude can only be described as splendid. Well placed in the order of play lightwing allows the listener to catch their breath before embarking on the eleven part opus One Man Alone.
Lamenting wolf man movies from the early black and white classics to more modern classics like American Werewolf In London One Man Alone offers more than a nod and a wink to bands like E.L.P. Yes and the usual suspects. Something the band make no secret of and celebrate all of the well loved elements of the established Prog blue print. Even the album cover uses the same colour scheme as the Genesis  album Wind And Wuthering. What i find so enjoyable about One Man Alone is that Glacier draw upon their full arsenal of ideas and musical know how. Dave Kidson's keyboards play a major part here and throughout the album yet in a strange way seem low key. Humour plays a large part in Glacier's make up, evident in subtitles like Barkus a take on E.L.P's album Tarkus whilst maintaining the werewolf reference also reflected in the riff being played. Yes like breaks are evident, though i am assured that whilst intentional are a play on the reoccurring  theme of the album played in a different time signature, clever stuff. I could even hear influences like Barclay James Harvest towards the climax of the piece
Finishing things of with the full power and glory of Prog is The Isle Of Glass. A fitting outro to a great body of work and just what you would expect from Glacier. John Youdale taking on the role of narrator informs all that "the king is dead, long live the king". A little corny methinks yet pleasing on a personal level. There is no doubt that Ashes For The Monarch may have it's dissenters born of the need for a modern musical template. This is an album that should be enjoyed for what it is intended to be, a celebration of a genre that simply refuses to fade and as such represents an example of the highest calibre. For those of us seeking nostalgia with a contemporary twist look no further, Glacier's new work fourteen years in the making is a joy and well worth the wait. Traditional Prog at it's very best.
Available from Bandcamp £6:00