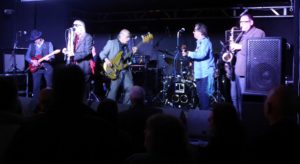 It felt strange entering the Studio in Hartlepool having only been there once since i staged both of The Progmeister festival's there a few years back. It appeared stark and almost youth club like compared to how it used to be. It amazes me that such an important music resource and hub isn't better looked after, promoted and managed. Over the years some pretty big acts have appeared there and Saturday 30th of April was no exception. The Blockheads are legendary and managed to elude me on many occasions. Not this time though. I was determined not to miss the band behind iconic polio victim Ian Dury who were forever shadowed in his wake.
As the house lights dimmed and the band strolled onto the stage assuming their stations one was given the impression and wrongly so that these guys had drifted in from a local pub busking for a gig, That is however until they start to play. As front man Derek Hussey asked "anyone in ere avin trouble with his missus?" The Blockheads set away like a racehorse. Playing Hold Up, If I Was A Woman and Express Yourself before stopping to draw breath. I was astounded by the sheer musical ability on display. More than that was the vibe that the band ere enjoying every note that hey played. Song after song simply had you bounding around in the same manner as the band. Inbetweenies and Sorry I Apologise  flowed beautifully in the set reminding all just how prolific Chas Jankel and the late Mr Dury were as song writers. This was re-enforced as Chas Jankel joined Mickey Gallagher on keyboards to play What A Waste. Indeed Chas alternated between his lovely red Telecaster and keyboards for the rest of the evening thrashing out standards like Wake Up And Make Love With Me, Billericay Dickie, Sex And Drugs And Rock And Roll. Guitarist John Turnbull playing and style were a joy to watch all evening as was the infamous Norman Watt-Roy's who's bass guitar was roughly the same size as him.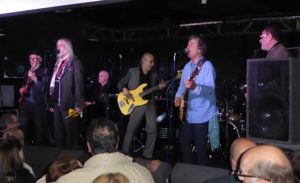 Derek (the draw) Hussey did an amazing job of delivering the songs without trying to emulate Ian Dury preferring instead to be simply himself in a typical cockney fashion which to be honest had me smiling all evening. There was times were i actually felt that i wanted to buy a car from his forecourt. One of Dury's traits that i did appreciate though was that Derek had obviously made it his business to a little bit about local history which he duly imparted on the appreciative crowd. Moving on with songs like I want to be straight and Undercover The band were demonstrating amazing stamina making me aware of just how many fantastic songs they had written and how tight they were as musicians. Sweet Gene Vincent showcased the talent of sax and clarinet player Gilhad Atzmon as did the final song of their set Clever Trever. This was further highlighted when the band returned to the stage to perform two encores Reasons To Be Cheerful Part 3 and Hit Me With You Rhythm Stick. As the band left the stage one by one reminding the management to keep the bar open it was lest to the rhythm section to close the show i kid you not it felt like being in Ronnie Scott's.
John Robert's powerful and beat perfect playing finished the gig as it had maintained it seamlessly with Watt-Roy's amazing bass and Atzmon's enthusiastic sax playing. They even included exerts from Weather Report's Bird Land in their finale which pretty much impressed the hell out of me. Joining the rest of the band at the bar they were swamped by an adoring crowd myself included. Standing in the corner was Chas Jankel who i was fortunate enough to speak to and share some thoughts. A warm and genuine man i can tell you and there was so much i wanted to ask him having just read Will Birch's definitive biography of Ian Dury. However, i felt it inappropriate as he had just come off stage and needed to chill. The Blockheads gig in Hartlepool was a resounding triumph and although they give out the impression af a Ford Anglia on first appearance it was when they played that you really find out they are indeed a Farrari. Top band, top gig, simples!