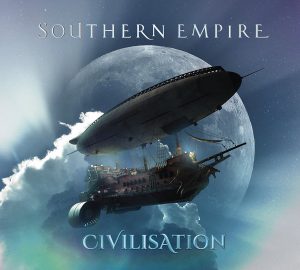 Civilisation
is the second album by Australian band Southern Empire and i have been looking forwards to getting my hands on a copy for review so a big thanks to Ann at GEP for my promo copy. Having previously reviewed a four disc box by Unitopia the band from which Southern Empire was born from the ashes of, I had an idea just what  was in store. What a shock i got having loaded up the CD and pressed play. Only very faint traces of Unitopia  are evident throughout this pile driver of an album despite having their key component (no pun intended) Sean Timms at the helm following the dissolution of his former venture.
Civilisation
is the second album i have reviewed lately with a heavier metal edge to it and one which i am pleased to open my mind to. The album is nicely packaged with art work by artist Ryan Stephens and befitting the progressive Rock ethos heralding the fantasy theme with a steam punk feel to it as does the image of the band. very Jules Verne in appearance born out by a quote from
Earth To The Moon
within the booklet. Though the musicians with the exception of Sean Timms are unknown to me i can confirm that these fella's pack a punch. Sean Timms / keys, vocals and sax, Danny Lopresto/lead vocals and guitar, Cam Blokland / Guitar and vocals, Brody Green / Drums and vocals, Jez Martin / Bass and vocals. With influences like IQ, Tranatlantic, Karnivool and Steven Wilson it's not hard to guess the direction Southern Empire are going. Hard hitting metal with a strong traditional slant representing the furthest this boy is willing to go with such a format which for me is pushing the envelope. Southern Empire really is a sea change from Sean Timms involvement with the more subtle Damanek and as so much bares no comparison.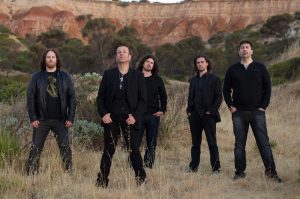 With only four tracks on the album the shortest being opener
Goliath's Moon
at 9:12 the band lay out long form pieces which in the present climate is a brave thing to do. That said
Civilisation
holds no bounds and to confine such energy to a given time frame would cause confusion as the songs, music and lyrical content need the extra time and space to breathe.  Penned by Cam Blokland G
oliath's Moon
really is a foot stomper and very up lifting. Moog bass and vocal harmonies here are first class and whilst listening on cans i was stunned by the melange of instrumentation and subtleties within such a powerful piece.  The message is not as galactic as it may seem however as
Goliath's Moon
is not about precious minerals to be had in any lunar province rather one of none attainment of those things just out of reach and about longing for them. Indeed messages are the order of the day in three of the songs and
Cries For The Lonely
serves as Sean Timms protest piece. "The gospel according to Sean Timms" as it were. It's about being cool and not being an abject fool hanging on the coat tails of bigots and those who extol hatred and fear whether it is with regards to religion, sexual orientation or those who dare to be different. A cry for us to love more and hate less and behave more civilised. Sean's keyboards and Brody Green's seismic drums get things kicked off to a flying staff though there are peaks and troughs throughout,  the tempo on the whole moves at a fair pace. Not surprisingly as drummer Brody Green had a big hand in creating this piece. Fans of Spock's Beard and bands like The Flower Kings will warm instantly to
Cries For The Lonely
and at times the harmonies become almost Queen-like. This song is huge and gives out a rock opera pastiche with a heavy metal guitar to finish this off with.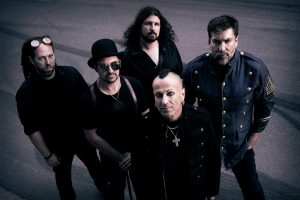 With African tribal connotations 
Crossroads 
leans more towards Unitopia territory. Not surprising as it was co-written by Sean with former band mate Mark Trueack.  Augmented from here on by Steve Unruh of the Samurai Of Prog, James Catchpole and Damanek cohort Marek Arnold  who between them contribute flute, violin and saxophones create quite a tour de force. 
Crossroads 
uses African religious symbolism to cause us to think about the choices we have and how those choices affect others. The chaos and confusion  that can arise as a result, yet carefully harnessed can be turned into something good. as a result of these elements there are some rather fine moments to be heard throughout this half hour operetta. Not least Danny Lepesto's powerful rock voice which not only carries the melody, he delivers the words so concisely with great clarity too. Steve Unruh's violin adds a little earthiness amidst such a wildly mixed and heavy venture. Ethnic tinges are a welcome inclusion too which is something Sean Timms seems to excel at. There's no shortness of grit though, indeed i felt the need to swig Bourbon from a bottle at times such was the hard rock infusion though this is on more than one occasion softened by subtle keyboard backed acoustic guitars that break up the barrage nicely. Original my thoughts were that
Crossroads
could have done with being a little shorter, though as mentioned above the piece works in it's long form and sticking with it until at least the third listening  will pay dividends. Quite a climax too with a real goose bump  moment. To conclude such and adventure a song originally written by Steve Unruh and intended for The Samurai Of Prog
Innocence And Fortune
has been re-written and the melody been re-invented and adapted by Sean Timms for Southern Empire.  At times i was left scratching my head in bewilderment at the lyrics  until i found out that they were written about two episodes of Dr Who (
Hell Bent and Heaven Sent).
keyboards and Steve Unruh's enchanting flute lead this song into a sweet yet complex myriad of sound almost King Crimson in musical style, very much back in the Prog idiom with some wonderful organ, Mellotron and acoustic guitar. there's also a blinder of a guitar break at approximately seven minutes in finished nicely by Sean Timms crisp piano sound. All in all a successful mission by a formidable musical force.
Civilisation
is just the right side of civilised heavy rock/metal for this particular music lover leaving a feeling of stimulation and excitement. Only one minor criticism can be leveled and it is of course a question on personal preference, and that is Brody Green's use of of double kick drum pedals which tend to let off a volley of machine gun like shots to the bass drum. Brody is without doubt a  power house when let loose behind the kit and to my personal taste doesn't need to use such a device as often. That said those who like their metal delivered with maximum clout will bask in the velocity of Brody's delivery. Southern Empire have created a high energy and thought provoking musical document which is to be admired for it's diversity infused within each of the four long form pieces. The superb packaging invokes the mood of the album perfectly and as such makes the whole experience of hearing the premier league musicians involved, their creativity,  and musical ability an exciting listen that not only awakens the more traditional lovers of Prog and bolstering the more contemporary aficionado's. A big thumbs up from this content traditionalist and a huge congratulation to the men down under.
Southern Empire Civilisation
will be released on July 20th from Giant Electric Pea. Price £10 http://www.gep.co.uk/store/cd-s/southern-empire/southern-empire-civilisation.html