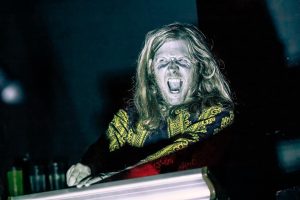 I have long held the view that as well as creating and listening to music of any genre should be a positive experience and that time whenever possible to have fun with it should be taken. Recently I have received news of three projects that have been recorded purely as fun and as a consequence render the listener in a less serious form of mind and expectation.  One such venture is a reworking by Gu-Ru of a song entitles Asylum from their recent self-released Tales From The Ashram album which I reviewed earlier in the year.
Taking the original opening line from the original song "Hey now people", front man and master boards player Lee Spreadbury has remixed the song giving it a powerful electro vibe with a hint of dance thrown in for good measure. However, the leaning towards traditional Prog sounds isn't totally betrayed resurfacing towards the end of the short musical disco adventure.  With some great subsonic filtering no doubt from Lee's trusty Moog ,there is some foot tapping moments to be had and whilst there is Gu-Ru's signature flute playing to be enjoyed the new coat of paint shouldn't be treated as simply a re-hashing of the message sending original, it stands very well on its own as a separate piece.
You can buy Hey Now people at … https://gu-ru.bandcamp.com/track/hey-now-people-gimme-asylum?fbclid=IwAR3c9-by8u5TahfzRhDc4taFCmHmxYmKMNwsBZYVLnNTV2DZ1NH2X4Hfz7Y
Price is £1.