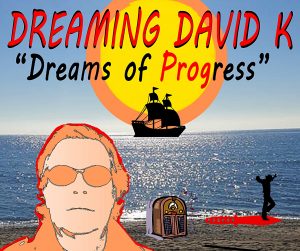 Dreams Of Progress
is the second album by Dreaming David K arriving at Progmeister towers some weeks ago and received a fair bit of play before I set about reviewing it. A quick reminder for those who missed my review of the first album or those new to Dreaming David K the nucleus of the band collectively known as The Organic Band consists of ex Killing Joke boards man David Kovacevic/keyboards and percussion / Marco Magnani, Bass, acoustic and electric guitar / Gavin Beckwith, lead guitar, bass, acoustic guitar and vocals / Jerome Brannigan and Alexander Savva, drums. Additional musicians include Jasminka O'Hora, female vocals/ Geoff Duckworth, flute and sax / Ed Bandstead, trumpet. Artwork for the album follows on from the bands first album
Mr Passive Progressive
with quirky imagery by Leon Thompson with photographs by Jeanette Thompson. The artwork unlike the music is not to my own personal taste unlike the music and whilst I feel it doesn't let the album down, I think more attention should be given to the packaging for physical media.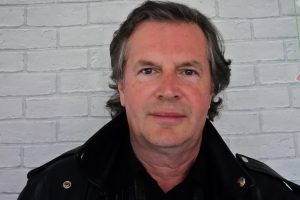 David KKovacevic Let's not get hung up on such minor detail though as the music throughout all of it's eleven tracks a pleasure to listen to. The social messages throughout are easily interpreted and easily equate with tragedy and conflict happening in the world at the present time. Without relying on lavish production and the budget the size of a small country the songs exude both fun and like the cover art a little quirkiness. The quality of
Dreams Of Progress
lay in the musician's themselves. Everything from timing to the technical ability of the players drawers the listener in along with the diverse nature of the songs and styles. I could pick out everything from Greenslade to Yes and traces of pop too. Listening to the opening bars of the first song
Dancing On A Knife Edge
lowers the listener into a false sense of tranquillity with its polite electric piano overtones though the piece gathers pace very quickly and packed with choppy organ breaks and snappy drums. Gavin Beckworth's killer guitar break adds more fuel to the fire. At the time of writing this review the war in Ukraine rages on with this song resonating the futility of it all along with the second song
A Line In The Sand
recounts the need for good people to intervene and try to halt aggressors and rogue leaders. David Kovacevic's voice channelling ex band mate Jazz Colman. This is a song I could easily imagine Jethro Tull recording. There is a nice interlude in which jazz man Geoff Duckworth plays sax and also adds flute further propagating the Jethro Tull vibe.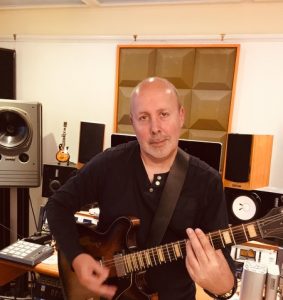 Gavin Beckworth Rick Wakeman fans please form an orderly queue. David K's blinding keyboard opening is broken by Marco Magnani's sweet acoustic guitar adopting an almost reggae rhythm though an Andy Latimer (Camel) style guitar break at just after five minutes in well and truly hits the spot. However, it is David K's keyboard playing here that crave the listeners attention as they are simply astounding. This can further be heard on
All At Sea
which is an all-out keyboard assault. Don't get me wrong, the guitar interplay lightened by acoustic guitar and flute before a Billy Idol (
White Wedding
) style break are a welcome addition to the barrage of sonic delights from David K's synth playing which incidentally is up there with some of the Prog greats. Staying with the keyboard orientated tunes
Moonlight Fantasy
is another in the keyboard extravaganza leaning towards an electronic style of a spaghetti western pastiche with Jasminka O'Hora's voice completing the image with a fabulous alto vocal finished beautifully with violin.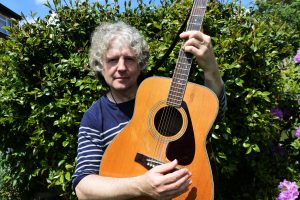 Marco Magnani Lending a heavier a grittier guitar led peace to the album is
Work In Progress.
There still some great keyboard outburst, let's not forget the keyboard players is still above the door in this pub, yet despite the power chords there is classy guitar elements to be enjoyed too. Drums are solid given light and air by a flute infused lull and subtle vocals pushed forwards by a Mike Oldfield guitar motif before returning to the dark sound of the edgy power chords. This song alone proved to me that there is only one way to listen to this album and that is
LOUD!!!!
Following this dark message is the metaphoric plea for help with things like climate and avoiding the ills of the world with
Come Superman
. The song is not as fully locked in the Prog groove as others and best described as light hearted yet poignant.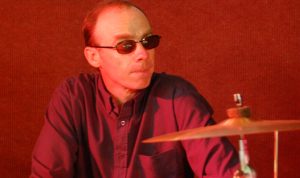 Jerome Brannigan Once again though David K demonstrates just how an adept keyboard player he is especially when it comes to synths whilst wrangling with bandmate Gavin Beckworth playing some blinding guitar throughout
Questions.
Alexanda Savva's pounding drums here drive the song forward despite the somewhat apocalyptic lyrical content. The music here is nothing short of stunning. In sharp contrast to this is the almost Eurovision like
Magic Radio
Definitely ear worm material if ever I hear one and worthy of FM radio play to the max. If there was a single to be taken from this album, I would think this would be it even though it is not fully representative of the other songs throughout the length of the album. Slipping back into all-out Prog though is the total pro-gout piece
Moodswinger.
Set the volume level to 11, buckle up and let rip. Yet again shades of Rick Wakeman creeping in though staying safely within the parameters of what has become Dreaming David K's signature sound. Synths guitar and drums here are powerful in equal measures.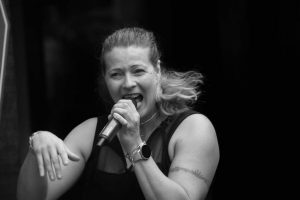 Jasminka O'Hora To play out on a bright note as the title suggest,
Sunshine
is a light almost a semi chant for the sun to simply shine on bringing to a close a highly musical adventure. In hard copy form
Dreams Of Progress
may not have the expensive digipak treatment as so many albums of this genre do but what it does have in spades is musicality. In the pool of Prog, I am forever surprised yet dismayed that the music of the minnow's is often overlooked by that of the carp. What I find with this particular minnow is that it swims closely to the carp without having the love and attention sprinkled upon it like it's larger and more brightly coloured brethren. With the proper support by a label or promotional budget this album would sit nicely with the best of what I have heard to date throughout 2022. This album is highly recommended for those who adore the classic sound of Prog yet adds humour and a more light hearted approach you simply must dip your toes in the pool.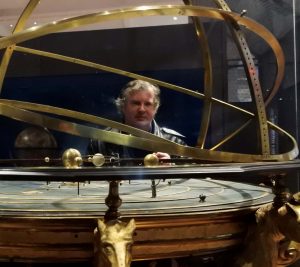 Dreaming David K Astral traveller. Should you wish to purchase the album please use the link below….
http://ditto.fm/dreams-0f-progress