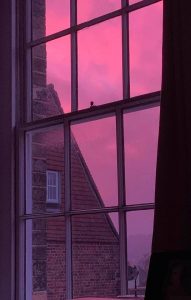 Being part of a band who play complex early seventies progressive music with a high degree of accuracy and a steady fan base can sometimes hide from public view the real talent that lay behind such ventures. Tony Patterson and Doug Melbourne were until these past few years two fifths of Re-Genesis one of the most popular Genesis tribute bands in Europe if not the world. In recent years following a decision to put Re-Genesis on hold Tony and Doug decided to write and record together creating the very hard to follow album
The Divide
. That was a couple of years back now and well before the world changed for the worse. However, despite the tragedy of a world pandemic and Tony Patterson losing his beautiful wife Angela to motor neurone disease Tony and Doug maintained their prowess for writing and composing great songs. The result is
Dark Before Dawn,
a ten-song album of diverse Musical styles moving the coalition forwards as musicians whose individual talents amount to quite a tour de force when combined. As with many songs there is an element of self-interpretation, however, Tony Patterson and Doug Melbourne have such a writing style with regards to lyrical content that massages within the songs don't tax the listeners imagination too much. There is no doubt that in simple terms
Dark Before Dawn builds
firmly on the strengths of the pairs previous venture
The Divide.
There seems less political and world affairs comment throughout this album compared to the last, though rest assured that politicians and their cronies don't get let off lightly. In my mind though it is the songs that Tony Patterson has included here dealing with his personal loss that really make a huge impact and manage to do so without labouring a point. The musical integrity throughout and the way that the songs flow is testament that time and resources have been invested at all stages of the recording. This becomes evident by the different soundscapes and textures used and not least Tony and Doug's exemplary keyboard skills.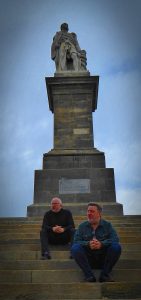 Loading the CD into my ancient CDP and eagerly hitting the play button I was instantly greeted with silky harmonies akin to those of Swedish band Moon Safari before a powerful beat began the strong and steady rock opener
Maybe.
Departing from the melodic Prog sound of which as a pair Messrs Patterson and Melbourne are best known for this racy piece moves along with gusto. Great Hammond organ from Doug Melbourne adding to the rock feel to the song.
Maybe
is full to the brim with great keyboards and a fine guitar solo by Sphere 3 axe man Steve Anderson. With such an opening gambit it is easily forgiven that
The Divide
(Tony and Doug's previous album) would see
Dark Before Dawn
a natural sequel or direct continuation whether intentional or not, however, much has happened in the intervening two years and there are new tales to tell and new avenues to explore. With a title like
Happy Place,
it would be easy to expect an upbeat dance song or a Captain Sensible cover? Not so, the mood turns a little darker with this thought-provoking missive referencing social media and living within the cocoon thereof. A deep rumbling electronic bass adds furthermore to the grey shades of the song. The spaciousness of the orchestration and chord sequences are key to making this one of the most dramatic songs o f the album. A great piece of ARP Pro-Soloist synth towards the conclusion of the song adds the mid seventies Genesis sound just for good measure.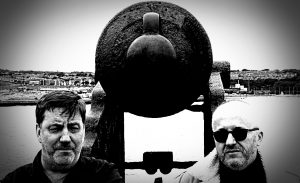 To say that the album is diverse is an understatement and the dreamy
Flags
ebbs and flows beautifully and very much a Sting pastiche from the listeners point of view. In fact, I could almost hear Sting singing it subconsciously. Doug Melbourne's talented wife makes an appearance here providing so sweet backing vocals. In other places the song reminded me very much of how I enjoyed early Level 42 music such is the son's departure in Tony and Doug's usual style.
Flags
fast became earworm status as the melody burns into the psyche. With the first of three songs on the album lending their theme to loss and losing someone close for one reason or another,
leaving
finds Tony Patterson and Doug Melbourne as balladeers rather than effuse social commentators yet despite the impression of him being sat alone at the piano the climax of the song reminds us that we are in the middle of something much grander. To alleviate the serious nature of the proceedings along comes
Old School Tie,
a little skit at those in privileged positions who promote cronyism though its best left to the listener who they hang the tag on. With a great beat this song bounces along nicely with Tony Patterson's distorted voice conveying the satirical content of the song perfectly. With all of its electro beats and harsh synth sounds the piano outro plays perfect musical yin to its yan. When I first read the title of the next song,
Burn The Skies,
I thought immediately that it would be about climate change, how wrong I was? This is a song about the breakup of a relationship and further demonstrates how finely honed Tony Patterson's skills as a lyricist have become. A haunting sample of what sounds like a violin glues this intriguing song together and features Carrie Melbourne again this time on Chapman Stick. The orchestration gives the song depth and breadth on which ever format/media the listener cares to choose. I listened to the album in the car, through my laptop via headphones and my phone. I do have to confess that when I played it via my Hi-Fi system it was mind blowing. The production quality throughout
Dark Before Dawn
gold standard betraying the fact of the recordings humble origins it could quite easily be mistaken for an Abbey Road standard master. With the loss of his wife Angela Tony Patterson has allowed himself the freedom needed to express just how he feels about that with the lilting ballad
Stopping Time.
I can only describe it as beautiful and very moving. The song also exudes the side of an artist rarely seen of heard within the parameters of such an album and something I feel should be embraced. Complemented by a simple piano with the inclusion of a solo cello it also serves to break up the musical melee and providing temporary tranquillity before a complete change of mood with
Reach Out.
Featuring Re-Genesis cohort Nigel Appleton playing drums and guitar there's some great deep bass synth to be had here and a sense of freeform electronica prevails. Keyboards and soundscapes are truly wonderful and keeps the listener glued to the chair for over three and a half minutes before Tony Patterson begins to sing. Great harmonies once again though be warned, I found myself reaching for the volume control and turning it up every time I listened to it.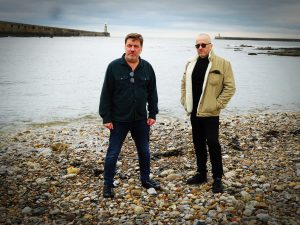 Strangely enough the title song
Dark Before Dawn
despite the sinister title is about hope and the sight in the distance of better times. At least that is my interpretation. It is also a perfect melange of Tony and Doug's musical attributes demonstrating their synergetic approach to their compositions. The title song is like the rest of the album so well constructed with every aspect and detail to the mix crafted  and buffed to perfection. This is also evident in the sequencing of the songs which throughout any album can make or break it. Here the songs flow beautifully. So, to finish such a venture what better than a final lament from Tony to his late wife?
Come Home (For Angela)
Is only two minutes and twenty seconds long and starting out like a Tangerine Dream piece before Tony's voice breaks through with a plea to have returned to him someone most precious. I have to confess a weakening of my tear ducts on completion which again is testament to the quality of the writing, timing and the thought behind every note and syllable of
Dark Before Dawn.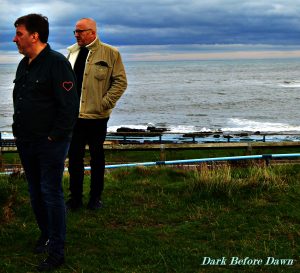 Dark Before Dawn
with be released via Bad Elephant music on February 25
th
2022. Pre orders for CD's and downloads will be from mid-January with a vinyl version expected a few months later due to logistical problems. Unlike some albums Tony and Doug have actually mastered the album twice one specifically for the vinyl release. Final artwork and price have yet to be confirmed. Had this been released before December 31
st
2021 it would easily have been The Progmeister's album of the year.  As it is to be released so early in 2022
Dark Before Dawn
will certainly set the bar high for the year.