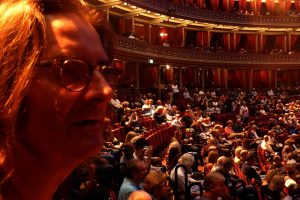 Camel fans in my experience are without doubt the most loyal and loving that any band could ever wish for. There is always a lot of love in the room when and where ever they play. Having returned to live touring a few years back staging their epic
Snow Goose
album Camel revived the spirit of not only their loyal fan base but the spirit within themselves too. Overcoming the tragedy of keyboard player Guy Le Blanc's untimely passing Camel soldiered on soliciting the assistance of Camel stalwart Ton Scherpenzeel until much more recently forming a bond with multi-instrumentalist Pete Jones.  This proved to be a cohesive foursome breathing new life into older pieces.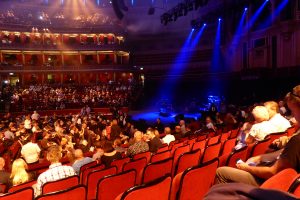 Imagine my excitement when the band announced that they intended to take my favourite Camel album out on the road,
Moonmadness
? I had last seen this album played in its entirety back in 1976 whilst I was a young impressionable seventeen year old. I was lucky enough to see the band twice with the late Peter Bardens, once on the
Moonmadness
tour and again in 1977 performing
Rain Dances.
With no time to waste tickets were purchased for the gig at The Newcastle Tyne Theatre and The Royal Albert Hall. As the months went by my excitement was barely containable though a week before Camel's Newcastle performance I was rushed to hospital by ambulance with severe abdominal pain. To my horror I found myself a victim of NHS cut backs and left for a week being given morphine and intravenous paracetamol. Following an ultrasound scan I was ruched to theatre as an urgent case which lead to me battling sepsis.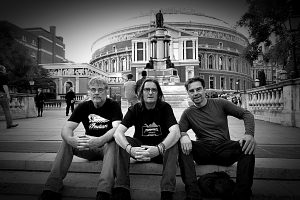 The following day my visitors informed me of the performance at Newcastle the night before. I was devastated.  Discharged from hospital on the Monday in quite a frail condition I had a full week to build strength and prepare for my journey from the North East to London for Camel's performance at The Royal Albert Hall. This was my inspiration, my drive, the thing that spurred me on to gather strength and motivation for the journey. I was constantly asked by those around me if it was worth it. My answer was "of course it is, its Camel". Only months away from my 60
th
birthday I had only seen the Royal Albert Hall from the outside so making my way to my allotted perch via door nine I was a little awestricken by the height of the gaff. Gazing towards to blue lights eliminating the stage I simply couldn't wait for this very special evening to begin. I didn't have to wait long before the house lights dimmed and the pre-recorded Opener of
Moonmadness, Aristillus
allowed the band sufficient time to arrive at their stations. Launching into
Song Within A Song
I was transported back to 1976 such was the authenticity of Pete Jones keyboard sounds especially the synthesiser break. Andy Latimer was on fire and remained so throughout the full performance. Although there was no communication between the band and the audience between songs the vibe from the stage was tangible.
Chord Change
came and went far too quickly for me it being my favourite piece from the
Moonmadness
album. Pete Bardens beautiful
Spirit Of The Water
was faithfully reproduced, Colin Bass singing this haunting with a little more clarity than the original, Pete Jones playing a crisp piano whilst accompanied by Andy Latimer playing the recorder. A little more upbeat in the
Moonmadness
set was
Another Night
, an all-out rocker, though on this occasion it was even grittier than the original.
Air Born
with its piano and flute intro opened up to be a song of total beauty and for the first time I understood every word being sung. The epic
Lunar Sea
completed the first set and the sheer power from Deni Clement's drum kit was immense. Hearing Andy Latimer's voice for the first time only to be informed they were stopping for a twenty minute break.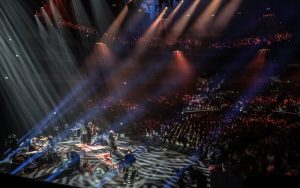 Returning to the stage to a rousing reception Camel explored songs from their past that hadn't had an airing for many years beginning with
Unevensong
from the bands
Rain Dances
album. Played with what seemed a new lease of life it was hard not to be totally blown away by the power and majesty of the bands playing. An example of this was
Hymn To Her
which I last seen being played by Camel in the late seventies with two keyboard players. The unison playing between Pete Jones and Andy Latimer's weaving guitar was simply breath taking. Noticeable throughout the evening were the army of camera crew both on stage and within the audience so at least this very special performance will be captured for posterity. Without further to do a new piece was given forth to the world in the form of
End Of The Line.
A sad though powerful song about the state of our unemployment figures and the desperation felt the many seeking jobs. It has to be said that following just about every song the band played the audience were on their feet to applaud and this powerful piece was no exception. Andy Latimer's guitar was so soulful that I found myself becoming quite emotional on more than one occasion. Great to hear
Rajaz
getting an outing too with Pete Jones spicing things up a little with a great saxophone solo and a lot of improvisation.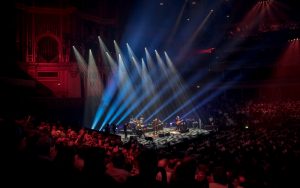 Without doubt the piece that moved me to tears was
Ice.
Described by Pete Jones as his audition piece it rightly brought the house down. I was no more good from here on in as the soul in Andy Latimer's playing was simply overwhelming. To lighten the mood a little the band played
Mother Road
from their
Dust And Dreams
album. This was given an almost ZZ Top style beat with a lot of improvisation. Another seldom explored album is
Harbour Of Tears
and it was refreshing to hear the band play
Hopeless Anger
a powerful guitar driven piece with lots of Genesis overtones. Mind blowing! How do you follow that? Well, to end the evening what better song than
Long Goodbyes
? One thing evident throughout the whole event was the musical synergy and friendship between Bass player/multi-instrumentalist Colin Bass which made
long Goodbyes
even more special. Colin brings so much to the Camel party contributing massively to the overall sound and this song is evidence of this.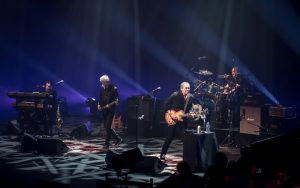 It was plain to see that the band was as humbled as the audience and this prompted a lengthy response from Andy latimer leaving me as choked as he was. The band left the stage and it was some time before they returned to deliver their encore. A lot of sore hands and dry throats persuaded Camel to play their standard
Lady Fantasy.
As with other Camel classics the keyboard sounds here had been worked hard upon to achieve such was their authenticity. A different slant on the climax was given yet again by Pete Jones who getting to his feet delivered another blinding sax solo. As
Lady Fantasy
steamed towards its conclusion I genuinely became overwhelmed and as I filed out of The Royal Albert Hall into the night air with my two friends absolutely exhausted I reflected on a very special happening and how well it made me feel. The healing powers of Camel eh? Like so many Camel fans I have travelled many miles seeing the band in their many guises though this September evening in 2018 is without doubt the most memorable and will stay in my heart and mind for ever. Some gigs are good, others great. Some will always remain special.