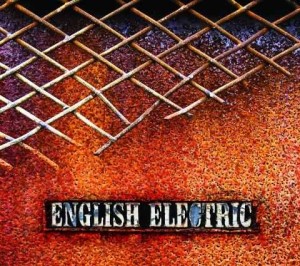 I have to take my hat off to Big Big Train. It would be easy to commend them for their astute business acumen, though releasing English Electric parts one and two separately was i feel a little more than a matter of commerce. Instead it allowed the first half of such a musically intense delving into our rich Engineering and social history to be consumed, digested and revisited before embarking on the second half of an amazing musical journey. I will begin my observations of this great sequel by making absolutely no apology for repeating some of my observations whilst reviewing English Electric part one. As far as progressive music is concerned either traditional or otherwise, Big Big Train are at the forefront of the present scene by a large margin.
Just like the first English Electric album it is beautifully clothed in a card gate-fold jewel case sporting the images of photographer Matt Sefton. Matt's fabulous photography is also used throughout the elaborate booklet which contains track by track credits and lyrics. It really does ooze quality and attention to detail. The album is an essential accompaniment to the first and should be acquired without hesitation. The role call of musicians are exactly the same due to the album being recorded more or less as a whole project. Opening the second half of Big Big train's passionate celebration of mainly historic railway achievements is "East Coast Racer", by far the longest piece on the album at 15:42 it includes many elements of musical styles which make up a full colour musical collage stimulating and exciting the senses.
The sound-stage is full with the masses of activity further infusing energy and pace aided and abetted by the powerhouse tubthumper Nick De Vigilio. Nick's playing really is at it's most vibrant on this epic track and to his credit he really drives the piece along beautifully along with Danny Manners piano and Greg Spawton's multi instrumental contribution though importantly bass. Rob Aubrey's deft use of bass pedals enhancing the piece as it moves towards it's climax. David Longdon delivered the story via his usual Phil Collins-like enunciation whist previous themes re-emerged in a very subtle chord structures acting as a reminder.
The mood of "Swan Hunter" is captured perfectly with some astounding harmonies and Salvation Army brass band licks courtesy of some great brass players contributing Trombone, Cornet, Tuba and Euphonium. A sumptous ballad describing the work of the amazing men who worked in the Neptune shipyard on the Tyne. It made me proud to live in the North East. "Worked Out" showcases David Longdon's immense musical talent as he adds the contents of his kitchen to his list  of credits. There are shades of Jethro Tull toward the end of this song with Dave Gregory taking flight making the hair stand up on the back of my neck.
In contrast, "Leopards" begins with violins and acoustic guitar giving the feel of and old black and white cowboy movie. This is of course down to interpretation though the strings and harmonies make this song something rather special. As is the next song "Keeper Of Abbey's". Dave Gregory's guitar and electric sitar are inspiring and the whole timing throughout this song is to die for. David Longdon's accordion adds a semi folk flavour to this piece and Danny Manners double bass adding gravitas to the proceedings along with Greg spawton's Mandolin and Organ.
"The Permanent Way" reminds you that you are not merely listening to Big Big Trains new album but to the continuation of the English Electric dynasty. This penultimate masterpiece includes a short organ break by head Tangentier Andy Tillison which simply blows yer socks off. Themes and choruses from English Electric part one are reprised during this song and in true tradition of the genre made me feel quite emotional. When music does this you know that you are on to a winner. This is at it's most prevalent whilst listening to the finale "Curator Of Butterflies". I felt almost tearful at the finely crafted conclusion it invoked so much emotion. This was down to Dave Gregory's subtle guitar playing and the fantastic job done by the hand picked string players.
There is no doubt that Greg Spawton and David longdon have written a clutch of great songs here as they did with English Electric part one. Both of these gifted multi-instrumentalists have not only played, recorded and along with Andy Poole produced something special, they have marshaled some of the best musicians on the planet to assist them down there at AUBITT studio. 2013 has gotten off to a very slow start music wise compared to last year. it starts here as far as i am concerned. Whether you own a copy of English Electric part one or not i regard this album as essential. Yet again one of the best albums Genesis never made, and yes, that is repeating myself.
£8:00 including UK postage