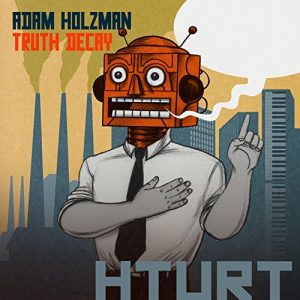 Been keeping my eye on Adam Holzman since watching him his keyboards play with Steven Wilson's band a few years back on the
Raven That Refused To Sing
tour. I thought then as i do now that there is something special about Adam's playing which left me wondering how i never came across him before. Adam Holzman has a rich musical heritage being as he is the son of Jac Holzman the head of Electra records. Adam's keyboards have graced albums such as 
Tutu 
by jazz legend Miles Davis and he has played along side the aristocracy of the music scene such as Marcus Miller, Grover Washington and the late Ray Manzarek of the doors. Just how Steven Wilson solicited Adam's talents i am unaware, though i am glad that he did. There is no doubt that Adam Holzman brings a lot to the party with his eclectic keyboard style and sounds and easy for those such as myself to become hooked on. Being as well connected a he is affords Holzman a broad pallet on which to paint. Gathering together  musicians with the appropriate skill set for his latest project
Truth Decay
attracted luminaries from Adam's involvement with Steven Wilson's band including Wilson himself (guitar), Nick Beggs (bass and Chapman stick) Craig Blundell (drums) and cohorts from passed collaborations such as Jane Getter (guitar) Abe Fogle (drums) Freddy Cash Jr (bass) and a host of seasoned horn players. Looking at the list of keyboard and gadgetry utilized to the full by Mr Holzman makes for an interesting read especially for nerds like me and left me wondering just what to expect. From the very first few bars of
Ectoplasm
and hearing the powerful energy of Abe Fogle's drums coupled with the second to none synth soloing  i knew this was going to be an exciting ride. Fans of bands entrenched in a more jazz/fusion idiom like Yellowjackets, Spyro Gyra et al, find yourself a seat! I do have to admit i found the fake guitar/keyboard here just a little too erratic for my own taste though followers of players like Jordan Rudess will simply love it.  Pretty impressive for an opener nonetheless as is Freddy Cash Jr's awesome bass playing.
Bella Capri
continues the intricacy of composition with great piano intro and yet more sumptous bass this time courtesy of Laurence Cottle playing some rather smooth fretless. The Moog solo performed here is second to none and seems to be Adam Holzman's signature sound. Craig Blundell's drums are solid both here and elsewhere on
Truth Decay
putting him up there with the best.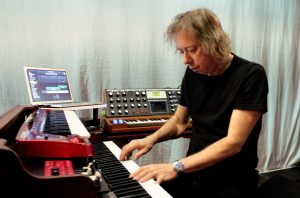 Another of Adam's signature sounds is his rather scratchy electric piano sound which he uses extensively on Steven Wilson's albums which means we weren't going to get away with it here (as if we would want to). What better way of starting Love's classic song 
A House Is Not A Motel
from their eponymous album
Forever Changes.
A no doubt tenuous link to Electra records and a glorious lineage.  With a powerful vocal delivery by fellow new York muso Randy McStine 
A House Is Not A motel
is very much of it'a time lyrically though many parallels can be drawn from recent history though in 1967 when originally penned by Arthur Lee the Vietnam war would have been uppermost on his mind.  The complex and intricate meanderings of the more contemporary presentation works a treat with more of Holzman's unleashed Moog solo's disturbed only by go to woodwind man Theo Travis contributing his best Ron Burgundy flute impro. Craig Blundell again adding his driving drums to a busy and powerful crescendo.
Phobia
lays down a fab jazz vibe with a sound that to me epitomizes Holzman's home town New York in no small part down to Frank Hackl (trumpet) and Ofer Assaf  (soprano sax) injecting that busy Manhattan feel yet Steven Wilson manages to leave his imprint with his gravelly rock guitar solo. Scaling things back a little with a some wicked Moog bass and Adam's fluid piano playing 
Good Luck With Your Music 
is perfectly placed in the flow of the album. With just a smattering of sax and bluesy drums the piece is a welcome contrast and interlude to the eclectic nature of the album.  It isn't long though before normal service is resumed with the rather splendid 
Are You High. 
With 70's cop show written all over it i found this piece right up my street. Theo Travis and Franz Hackl creating a huge brass section amidst this unadulterated jazz foray. Holzman's Electric piano and stunning Moog playing make for a compelling listen as does his humorous use of a toy piano. Jazz fusion meets The Streets Of San Francisco. Considering the nature of the music so far the tile song
Truth Decay
isn't at all what i was expecting. With words by bassist Nick Beggs who also plays Chapman stick on this haunting ditty
.
Complete with a guitar solo by Jenny Getter Nick Beggs vocals and Stick playing is equaled only by some great synth playing.  Continuing a sombre pace, a warm sweaty city-scape feel is given off by the sparse Wurlitzer and acoustic piano during
I Told You So.
The mood of the piece is further added to by Stefano Olivato's haunting harmonica. Very atmospheric. In stark contrast and just when you thought the album couldn't get any better along comes
Morphine Lollipop.
Awesome Moog bass once again giving a hint of Gary Wright style presentation. Great to hear the brass section doing their thing again (jazz jazz jazz).  So many comparisons can be made throughout
Truth Decay
that it is easy to find a track there within to make most people smile. None more so than the quirkiest of all the pieces here
You Knew
which has Steely Dan overtones with the exception of Donald Fagen's voice that is. Adam Holzman makes the most of his various electronic gadgets and array of synthesisers  backed up by Jane Getter's guitar once again .
So, how to finish such a rich enterprise? Well, instead of a big finish such as the one i was expecting, Holzman elected instead to choose the atmospheric route with himself and his keyboards along with Mark Egan playing acoustic bass.
Picking Through The Wreckage
throws out a spacious atmospheric soundstage that can only be described as sumptuous filled with eerie synth noodlings which seem to lower the listener gently to the ground following an exhilarating funfair ride. Simply put, a great way to finish the gig! Art work too by Hajo Muller has a certain cartoon-like eccentricity that adds to the whole vibe.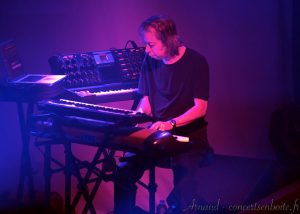 For Steven Wilson fans who expect an extension of his last few albums to which Adam Holzman made significant contributions, i would proceed with caution.
Truth Decay
is no jazz fusion / Neo Prog cross over as would be easy to assume. Instead it's a full blown fusion album that i would suspect will appeal to those like myself reared on the likes of Chick Corea and Weather report. However, if you haven't explored such genres then
Truth Decay
is a more contemporary vehicle to discover and enjoy such a genre with just a reasonable amount of accessibility. Without doubt this album has become my guilty pleasure . It may struggle to enthrall members of his current Prog/Rock audience though the more intuitive and music savvy will love it for waht it is, the real deal lending the kudos to Adam Holzman that he so richly deserves. The boy from the Bronx did good.