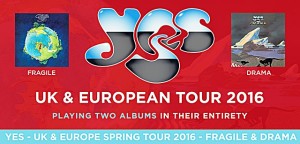 YES are to  do a 10 date UK tour performing 2 classic albums –
Fragile and Drama in their entirety plus other major YES tracks from 27th April.
Full info below.
Steve Howe and Geoff Downes are in the UK at the moment and are available for phoners, ISDN and in person interviews.
Alan White, Jon Davison and Billy Sherwood are in the USA and are available for phone interviews.
Please let me know what you need and if you can cover this news story it would be great if you can send us a link.
YES TO TOUR UK AND EUROPE IN APRIL
12th January 2016
Seminal prog pioneers YES has announced an extensive UK and European tour for April 2016. The band will be performing 1971's 'Fragile' and 1980's 'Drama' in their entirety, the latter for the very first time, plus other seminal tracks including 'Owner of a Lonely Heart' and 'Starship Trooper'.  
'Most of the songs haven't been performed in some 30 years' – said Steve Howe. 'Fragile and Drama mark two essential chapters of our career and we're looking forward to share the whole journeys with our fans throughout Europe'. 'Reliving those years will be very emotional' – adds drummer Alan White – 'I know Chris would have loved to be here with us for this'.
YES has recently lost bassist and co-founder Chris Squire, a tragedy that left the prog world in mourning. His replacement Billy Sherwood found a big pair of shoes to fill, as YES set out to honour his memory by keeping the band's legacy alive. The band recently toured the US tour with fellow prog legends Toto to an enthusiastic reception.
YES was founded by Chris Squire and Jon Anderson in 1968. Characterized by a unique, prog symphonic style of rock music, lengthy compositions and the use of mystical and cosmic lyrics, the band found success in 1971 with two of the band's most celebrated records, 'The YES Album' and 'Fragile'. The band went on to record 21 albums and win several prestigious awards including Grammys.  Yes is recognized as one of the most influential icons in prog rock.
Still as relevant today as they were in the 70s, YES has maintained a loyal following while constantly attracting new crowds of music fans throughout 47 years of outstanding career. With 'Fragile' and 'Drama' representing two essential moments of the band's history, it will be an opportunity for all to rediscover some undisputed gems of the genre.
Dates as follows:
DATE              CITY                                        VENUE                                   BOX OFFICE
April 
Wed 27th        Glasgow                                Royal Concert Hall              0141 353 8000
Fri    29th         Newcastle                             City Hall                                 0191 277 8030
Sat   30th        Manchester                           Apollo                                     08444 777 677
May
Mon  2nd         Liverpool                               Philharmonic                                    0151 709 3789
Tue  3rd          Sheffield                                City Hall                                 0114 2789 789
Wed 4th          Bristol                                    Colston Hall                         0844 887 1500
Fri    6th           Birmingham                         Symphony Hall                     0121 345 0602
Sat   7th           Brighton                                 Brighton Centre                   0844 847 1515
Mon  9th          Oxford *                                  New Theatre                         0844 871 3020
Tue  10th        London**                               Royal Albert Hall                  0207 589 8212
Dates for rest of EUROPE
13th                 Paris FRANCE                    Olympia
14th                 Brussels BELGIUM             Ancienne Belgique 
15th                 Utrecht NETHERLANDS    Tivolivredenburg
17th                 Hamburg GERMANY          Mehr Theater 
19th                 Frankfurt Germany            Alte Oper
20th                 Leipzig Germany               Haus Avensee 
21st                 Berlin Germany                 Admiralspalast 
23rd                 Bonn Germany                  Beethovenhalle
24th                 StuttgartGermany             Hegelsaal
25th                          Munich Germany               Cirkus Krone
27th                          Zurich SWITZERLAND       Volkshaus
28th                          Milan Italy                           Teatro Nazionale
29th                 Padova Italy                       Gran Teatro Geox
31st                          Florence Italy                     Obihall
June
1st                    Rome Italy                         Teatro Olimpico
UK Tickets are £39 for all venues except London.  Oxford* £39 + £1.25 venue restoration levy.
London** £55 (boxes), £48.50, £45, £38           Tickets are available from 24hour Ticket Hotline: 0844 338 0000 and Online from BookingsDirect.com.  Showtime is 7.30pm (plus support).
yesworld.com
Tweet twitter.com/YESofficial
facebook.com/YEStheband