No, this is not the South Bank Show. And yes, this is a feature about an artist. I have been fortunate enough to have been friends with local artist John Wray for many years and indeed commissioned an illustration by him. John and I both share a passion for prog rock music on which john is an encyclopaedia. Here's what he had to say when I interviewed him recently.
How long have you been interested in illustration and what got you interested ?
I have drawn and painted from a very young age, five or six year old,  I really became interested in art when I discovered a book about Salvador Dali in my local library.  When I started listening to music I saw album sleeves such as Barry Godbers excellent artwork for "In the Court of the Crimson King" then work by Roger Dean,  Hipgnosis and Patrick Woodroofe's work for Greenslade. I bought a lot of the Paper Tiger coffee table art books that were around in the early to mid 70s.  I was never a big fan of the Chris Achilleos – superhero / sword and sorcery type paintings prefering the more darker surreal stuff.
The late 60s and early 70s were to me the classic times for the record cover design the Harvest, Vertigo and Island Records labels (to name a few) had some amazing artwork going out into the public arena, a new album was an event  the gatefold artwork and label design all part of the package this is something I find sadly missing from the booklet size art you get with the CD format.
That being said some good sleeves contained some poor musical content, and some bad  (to me) designs had some cracking music within, hence the old saying never judge a book by the cover.
From where do you draw your inspiration ?
Artists such as HR Giger, Ernst Fuchs, The Pre Raphaelite Painters, Salvador Dali, Patrick Caufield  and many many more including those named in the previous answer..
What format / techniques do you prefer ?
I like working in oil paint or acrylic paint .  I'm not very good with watercolour.  It amazes me to watch someone who works well with watercolour as I normally end up with something resembling a mudbath on paper.
I have recently been working on drawings using draughtsmans pens. The pens are fine and allow a for intricate detail These drawings started as sort of organic freeform doodles and have ended up pretty well planned.  They are busy drawings and have a lot going on in them. I have received a lot of  feedback from this type of work and have recently had some work published in an e-zine and via this site will have a couple of my drawings published in a book later in the year. Go to http://www.thehorrorzine.com
What plans have you to develop your work?
I'd like to take the drawings into the 3D realm and will be working on a design for a guitar body and I'd ideally like to try and exhibit some work this year.  I don't know if my 3D idea will work or not, but as they say "nothing ventured nothing gained".
 Would you say that any of your work has been influenced by Progressive rock music ?  if so which pieces ?
There are several of my drawings directly influenced by prog rock these are "The Lighthouse", "Entangled" and "While I'm Alive and Half Awake".
The Lighthouse is loosely based on A plague of lighthouse keepers by Van der Graaf Generator, in the drawing you can see the lighthouse ( a steal from the cover of Peter Hammill's book "Killers Angels Refugee's".  The lonely man who's solitude is true (lyric from Plague) is sat somewhere amongst the drawings are several chess pieces to reflect the "Pawn Hearts" album artwork.
Other works I have done with a VdGG theme are "Checkmate" – 2010 and "The least we can do" – 2006
Entangled evolved while listening to Genesis album "Trick of the Tail"  especially the opening single guitar part and ending heavenly mellotron like choir which feature in the track of the same name. What the music stirred up in my imagination was an undiscovered (until then) surreal forest which was being seen for the first time. The end product worked although it took (4 month) an unusually long time to complete the drawing.
While I'm alive and half awake is a commissioned work, the title comes from the lyric of the IQ song 'Sacred Sound' from the Dark Matter album. In the drawing commissioned by The Progmeister, there are references to a multitude of personal items but on the prog/musical side of things there's references to IQ, The IQ stage show I saw at the Bury Met – September 2006 and Dark Matter sleeve, Camel, Pink Floyd – Dark side of the Moon and The Wall, a VdGG chessboard, Mini Moog, the Harvest Records Logo and much much more.
Here are samples of John's work. I think they are wonderful.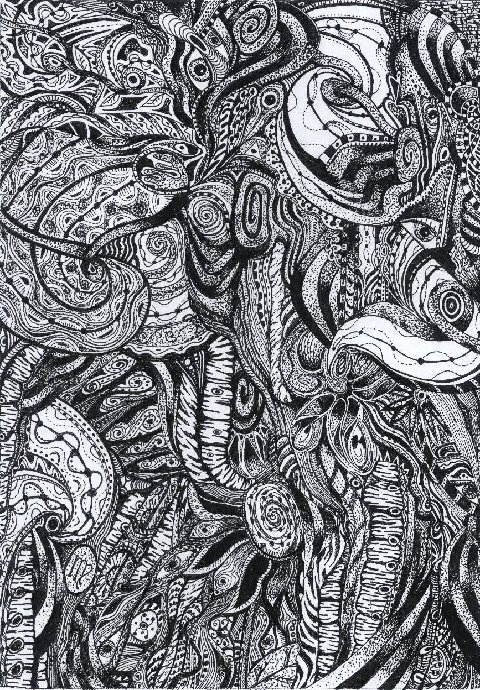 Entangled  –  2007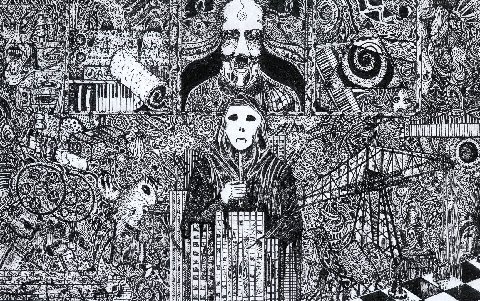 While i'm alive and hald awake 2007
If you would like to contact John to commission work or for any other reason he can be found at the above mentioned site or contact via my online contact form.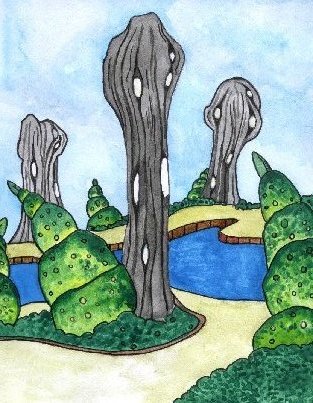 I think you will agree, John's work is something special. Check him out Progsters.