They say all good things come to an end and recently North Eastern musician Tony Patterson decided to hang up his Slipperman suit to concentrate on his own projects entering a new phase of his musical career which includes little or no live performances. Being in a Genesis tribute band especially one of the biggest and successful in the business can be hectic and distract you from your day job which in Tony Patterson's case is being a full time composer/writer/musician and of course husband and dad. Here are some of Tony's thoughts on fronting ReGenesis and his reasons for quitting the band.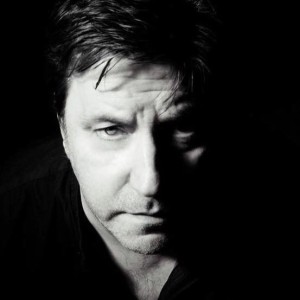 The trouble with fronting a band… My time with ReGenesis. Part 1. My Genesis of ReGenesis " Oh my fucking god" were the words I muttered to myself at the size of the queue at the doors of the Orange in Kensington on a sunny day in May back in 1999. This was to be my first show fronting ReGenesis and boy, was I nervous! I'd played keyboards and done backing vocals for years in various bands, playing the club circuit around the north east. I'd even had a stab at doing lead vocals at my one and only attempt at forming a Genesis tribute band after having zero success at finding a suitable vocalist ( I was originally playing keys). I had no doubts as far as the actual singing and playing flute were concerned. My main worry was fronting such a popular band and communicating with the audience. Being a naturally anxious person this presented a major hurdle for me. As it happened that first show was very well received and although a little nervous, I battled through and managed to convince myself and most of the audience that I could do it. However, the nerves and anxiety would continue to be problematic to the extent that I would use alcohol to get me through the show. It didn't take too long to realise that this was a rocky road and I'd need to nip it in the bud very quickly. The anxiety attacks would still happen from time to time, the worst of which would be just before a show in Holland. I was feeling sick and very unwell. The band thought it was some kind of bug but I knew it was a full- blown panic attack. With a panic attack you can't just " pull yourself together" – the amygdala has already taken hold and no matter how much your frontal lobe tries to reason, it just doesn't work. The amygdala has to be reprogrammed and your brain rewired. This is the part of the brain that deals with the body's fight or flight response to a stressful situation.over the years I managed to conquer the fear but it took a long time. ReGenesis has had so many personnel changes over the years and the dynamic of the band has inevitably changed. Having so many different personalities can sometimes create tensions within the band. ReGenesis has definitely had its share of that over the years. The period I struggled with the most was probably from around 2002 up until around 2006. It was my most unhappy period in the band. I'd ask myself many times " why do I put up with this? Why don't I just leave?". I did exactly that in 2006. I'd been working with John Hackett on his solo album and also doing a lot of TV ads. This was between 2004 and 2005 and by the beginning of 2006 I'd made my mind up. This would be my final year with the band. It was the Genesis convention at the Astoria and I was determined to put on a good show. A few days later I sent out an email to the rest of the guys saying I was leaving. No big announcement. No fuss. That was it.
In the Wilderness In the closing months of 2006 I had already left ReGenesis and was working on various advertising music briefs that were starting to come in thick and fast. I'd also won a finalist position in the BBC New Composers' campaign – one of twelve out of over fifteen hundred entries! I was very proud of that. A trip to Angel Studios in London and a masterclass with the film composer George Fenton and the BBC Concert Orchestra would follow. By the start of 2007 and I was ensconced in my tv and music library work. My days of singing in a band were over and I was comfortable with that. I'd kept in touch with Doug Melbourne. Doug was the keyboards player and founding member of ReGenesis and he also managed the band. He'd left the band in 2001 after the Lamb shows and returned as manager in 2006. We discussed the idea of doing an album of Peter Gabriel covers for piano and vocal.The idea would be to make the album quite sparse sounding with a demo- like feel. Of course, by the time we'd finished it there were all sorts of synths, bells, whistles and even orchestral sections! I'd also recorded a lead vocal part for Doug's wife, Carrie on her album " Et Spiritu Sancti". Carrie is an extraordinary musician and had worked with Mike Oldfield and Tricky. There was also some vocal work for Nick Magnus, Steve Hackett's keyboards player from the 70's and 80's. Doug and I were asked to perform a Gabriel set at the Genesis Convention in Glasgow. It was a low-key set but it was fun and I enjoyed it. So much in fact that I wondered if there would ever be an opportunity to do it again? I'd already left ReGenesis. There was no going back. Or so I thought…
The Return of the Giant Geordie "We're thinking of forming a Genesis tribute and your name came up" . The words from the Prognosis drummer who'd informed me that their singer was leaving and they wanted to change direction. To be honest, I wasn't interested. I was too busy working on other projects. " ok I'll pop along and have a listen". Ok I was mildly curious! The band were good and I had a bash at singing a few classic Genesis songs. Before long I was a permanent fixture to the newly formed RetroGenesis. We did a few shows around the north east but I was already losing interest and persuaded the band to morph into a Peter Gabriel tribute. Enter SoGabriel! This I enjoyed immensely! Playing songs like "Solsbury Hill" and "Here Comes The Flood" was a wonderful and fulfilling experience. I have fond memories of those few gigs, especially the Robin 2 show in Bilston. It was now 2008 and SoGabriel were struggling to get gigs. The rest of the band were looking at returning to the Genesis tribute as they felt the Peter Gabriel tribute just wasn't popular enough. At this time I was writing material with Tim Esau. Tim was the bass player with SoGabriel and at the time, ex IQ. During one of the writing sessions at Newcastle College we were about to call it a day and hit the pub when Tim received an email from Pete Nicholls of IQ. " probably asking you to return to IQ" I said. And the rest, as they say… It's a hot sunny afternoon and the phone rings. " Mr T. How are you?" It's Doug Melbourne. " if we were to do ReGenesis again, what would you like to do?" Hypothetical question, obviously. " The Lamb. I'd like to to The Lamb" . Since my departure in 2006 ReGenesis had been searching for a singer and a bass player ( Andy Hyam left at the same time). They had a few people in mind but the band was pretty much in hiatus. Doug had the idea of ' borrowing' the band for a few shows with himself on keyboards. At first I was apprehensive. Then again, the opportunity of doing the Lamb again excited me. And the fact that Doug was returning to the band was an added bonus. "Ok, as long as it's just a couple of gigs" said I. I really should have known better! For some reason we couldn't get the Lamb idea going but the plan was to do a warm-up gig of classic early Genesis songs at the Robin 2 and a special show at the Shepherd's Bush Empire. We recruited a new bass player, Shaun Hunt. We were ready to rehearse.
A big jar of gherkins! It's always interesting when someone new joins the band. This time it was Shaun Hunt. Shaun had a few difficulties at first but once he got going there was no stopping him! He was also fun to be around and did the best Benny Hill impression I've ever seen! The first rehearsals were a bit ropey but the atmosphere in the band was positive. It felt very much like the old days. We rehearsed at Survival Studios in Acton with a final rehearsal weekend at Peter Gabriel's Realworld studios. I was flying down to Bristol from Newcastle and staying with Doug and Carrie in Calne, Wiltshire. We arrived at Realworld studios on a soaking wet Saturday morning. Searching for the office to announce our arrival in the pissing down with rain wasn't really something I'd anticipated. Add to that the fact that I wasn't wearing a coat was just asking for trouble! We were a week away from the shows. " He's getting a cold" were Nigel's fateful words. It was the morning of the first show. I couldn't speak. My voice was gone. All the hours of rehearsing. All the expectations. The shows could be cancelled because of this fucking cold! I battled on and just about managed to get through the shows. Voice shot to bits. .The Shepherd's Bush show is a memory that will stay with me forever. The band were on fire and the atmosphere was fantastic. The fans were glad to see us back and they made it known by their effusive reaction to the show. Surely we can't just leave this at two gigs? And of course, we didn't! The following year we would perform most of The Trespass album. The Trespass 40th Anniversary tour. Tensions in the band were starting to show a bit but overall it was a great tour. For some reason we didn't do the Nursery Cryme tour the following year but we returned in 2012 with the Foxtrot tour. Probably my most enjoyable tour with ReGenesis to date! The climate in the band had changed so much. I was having so much fun this time around. We laughed a lot. Of course, It was inevitable that we would return the following year with the Selling England By The Pound tour. Not as enjoyable as the previous tour, but still great fun. However some cracks were beginning to show. Although musically the magic was still there, I could sense that the band were tired and on occasion, tempers would flare. To my mind this was the end. We'd played some fantastic shows and I'd had my best time ever with ReGenesis. The obvious move would be to do the Lamb the following year. However, we were tired and there wasn't much enthusiasm for doing it at that time. It's ironic that my original reason to return to the band in 2008 was because I wanted to perform the Lamb once again. But It wasn't to be. Not yet anyway!
The last Supper 2014 was an eventful year. I lost my mum to dementia which had a devastating effect. It was also the year I released the Northlands album with fellow north-easterner Brendan Eyre. ReGenesis were effectively ' on hold' although I had no intention of returning. My ReGenesis days were done and it had been fun. Mostly. During that year I had a lot of time to reflect. Writing the Northlands album was, in many ways a cathartic exercise and many of the tracks are semi autobiographical. The following year I began writing my solo album "Equations Of Meaning". During the recording of the album I called on Doug Melbourne to add some keys to a couple of songs. It wasn't long before the phone rang again. " Mr T. How are you?". Somehow I knew what was coming! The Lamb Lies Down On Broadway. The opportunity to play the whole thing again was on the table. This time we'd need to recruit a new guitarist and bass player. Andy Gray had had enough and Shaun Hunt was too busy tending to his gherkin crop. This time was different. I needed to think it through. I wasn't sure if I wanted to return to ReGenesis. I'd spent the last year pondering over a lot of things. My time with a ReGenesis hasn't always been plain sailing. There have been times when I didn't feel valued as a member of the band. And I was very close to leaving on a few occasions. Dealing with certain personalities in the band was tough. Especially in the early days. I'd come to realise that it's just the way they are. No matter how abrupt and rude they appear on the outside, it's just part of their personality and shouldn't be taken too personally. I was also frustrated by the fact that I had become known as 'the ReGenesis singer' and not a musician in my own right. I'm effectively a musician who sings from time to time. I just wear a different jacket for whatever I'm doing. I spent the next few days agonising over the thought of returning to ReGenesis. Would I still enjoy it? Aren't I just taking a backward step? Can I tolerate all the crap? Then again, it's an opportunity to perform the Lamb once more! – Something I always wanted to do as my final ReGenesis show. Eventually I agreed to do it. All we needed now was a bass player and guitarist. Enter Nick Loebner and Tom Janssen! I'd noticed Nick's smiling face at a few ReGenesis gigs in the past but wasn't aware that he was a bass player. Tom was someone Doug had worked with and a great musician. They were auditioned in my absence and I was sent the recordings for approval. Another incarnation of the band was born! Doug's idea was that we do the Lamb but drag it kicking and screaming into the 21st century. His initial idea for me to wear a hoody was dismissed immediately! We would redesign the slipperman costume and stage slides. The band had a few instrumental rehearsals before I would join them in February 2016. The rehearsals were hard work but the determination and enthusiasm from the new boys was incredible. There was also a good vibe going down. We had lots of laughs and it was very relaxed. But there was something missing for me. I couldn't put my finger on it. The shivers down the spine just weren't happening. I started to wonder if I'd made a terrible mistake.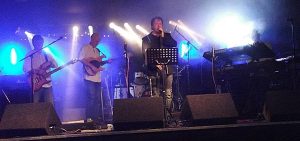 My new album had just been released and I was starting to write music for a new project. Having to work on the Lamb was becoming a bit of a drag. We'd started off with a nice collection of gigs but eventually this was reduced to just a few. I took a deep breath and got on with the job in hand. It was October and it was showtime! The shows were fantastic and the positive feeling in the band was the best it had ever been! However I knew this was it for me. My time with the band was reaching its conclusion. After the tour we were offered a weekender at the famous Half Moon in Putney in June 2017. Because of the lack of shows on the tour we decided to do it. It would be the Lamb on Saturday and a classic Genesis set on Sunday. That Sunday was a weird day. Tinged with sadness because I knew it would be my final shows with ReGenesis but also the horrible events at London bridge the night before. It was also a celebration. Celebrating my years with the band. Getting the previous singer, Glyn onstage for the encore was wonderful. I swear there was a tear in my eye during the closing section of " Supper's Ready". However I knew I'd made the right decision. It was getting to the point were I no longer needed an old man mask for " The Musical Box". Also, the Genesis tribute band world has changed so much. And not necessarily in a good way. I'm very proud of my time with ReGenesis. When I joined them in 1998 there were very few Genesis tribute bands around. Now I feel there are too many. I will miss the band. I will miss Doug's evil sense of humour, I will miss Nigel's brilliant drumming and I'll miss the new boys. We laughed a lot. Sadly, for now Supper has gone cold. The Musical Box has wound down. But, as they say, It's only knock and know-all…but I like it! Over and out.
Reproduced by kind permission.