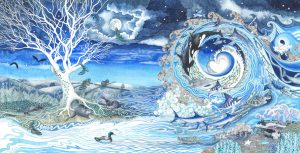 I was one of the lucky punters who were on board with Pendragon from the get go. I remember buying the bands earlier albums via CD services up in Dundee including their EP's, my favorite being
Good As Gold/Paint box.
I had the Toff Records flyers up until recently though sadly like so many other things in life have been misplaced. Toff Records was the bands own label they set up to channel their first endeavors. Pendragon's 90's output remains my favorite to date preferring the bands more traditional Prog leanings than the Prog metal form that they morphed into during the millennium years. Though I do have to say that I thought the performance they gave at the High Voltage Festival back in 2010 was energetic, powerful and extremely enjoyable. Fast forward to 2020 and for this writer Pendragon pulled one out of the bag! Their latest adventure is a meld of the bands previous story telling Prog vein and their later heavier style in just the right proportions for this writer.
Love Over Fear
is a triumph from the first few bars setting off with a retro organ sound and a beating tom heralding the arrival of
Everything.
Starting at such a stomping pace brings with it a bright and breezy nature like opening a window to lilt in a cool draft. Nick Barret's guitar and south west enunciation are both a joy to listen to pushing the main theme of the song nicely into the second song
Starfish And The Moon.
Here the guitar sound is so soulful I thought I was listening to Camel. Nick Barret's voice shows little of the aging process that inflicts itself upon many others with thirty years of use. It has an almost choir boy purity which I can only describe throughout this lilting ear worm as beautiful. Moments like tis emerge and re-emerge throughout the ten well-structured pieces leaving no room for fillers or unnecessary bridges.

Truth And Lies
continues to manifest ear worms with its David Gilmour like guitar licks and a return to the bands halcyon years. Clive Nolan's swirling synth strings and powerful scale bolster a darkness held within the lyrics. There is a reference for the first times here to Barret's love of literature as he sings in one line "Lord Of The Flies" though my interpretation is more Lewis Carroll than William Golding with references to deeper and deeper down the rabbit hole and previous Pendragon cover art work in my head. There is much about the songs throughout
Love Over Fear
that takes inspiration from Barrett's recent move to Cornwall and becoming the proprietor of a successful B&B. On first arrival there as he gazes around he could see the ocean, fields and the sky, hence the Waterboys pastiche
360 Degrees.
Yes there's no getting away from it there is more than a passing resemblance here to
The Whole Of The Moon
but hey there's no harm in that and it buts a much needed ripple in the flow of the songs. To further add to the Celtic mood some splendid violin and backing vocals are added for good measure by Zoe Devenish and Nick Barrett playing mandolin. Rousing and totally enjoyable I would be happy to play this on the jukebox at my local and displays all the hallmarks of being a hit single. Beginning with some deep reverbing electric guitar a huge textural palette is laid out which is once again augmented by Zoe Devenish's lilting violin.
The Soul And The Sea
yet another minor musical triumph invoking a little tranquility to the proceedings finds Nick Barrett's haunting voice to the fore. Though somewhat easy to regard as a divine bridge to the larger scale offering of
Eternal Light
I found it more to enhance the flow enhancing continuity of album as a whole.
Eternal light
however does find a more all hands to the pump approach with Clive Nolan's keyboards sounding as big as the sky. I found myself singing along to this song and being immersed in it too with its many time changes and interludes it really is modern Prog at its very best. It must be said that stalwart Peter Gee on bass and drummer Jan Vincent Velazco are solid throughout the whole venture bolstering the intricate and at time complex songs, they are understated though essential adding the right amount of vim and vigor at all the right times.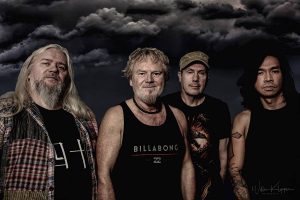 Nick Barrett's aging Strat has never sounded as good as it does on the opening of
Water
a powerful tour de force no doubt inspired by Barrett's passion for surfing although the metaphors abound of being safer surrounded by water then back on dry land. I kind of get this song and in many ways identify with it.
Water
has some of the best guitar I've heard to date on any Pendragon album which I found absolutely sublime. I have to admit to being totally blown away by this song. It would be a very hard task to continue with such emotion and basked in the complete change of tempo in the utterly charming
Whirlwind.
With almost jazz singer phrasing Nick Barrett quietly rejoices of his new found life and love with a soul mate in perfect surroundings. It doesn't get much better than that! Amidst the tranquil serenity the subtle tone of Julian Bakers saxophone add to the mood beautifully.
Whirlwind
oddly enough represents the calm before the storm and is continued in haste with the growling guitars, Mellotron strings and choir, synths, organ and the kitchen sink, Clive Nolan's keyboards are indeed as big as the sky throughout the epic
Who We Really Are.
Dismay of mankind's endeavors thus far is reflected in the opening lyric "to my mind it's a miracle we got this far"! Something I agree with. Strummed acoustic guitar gives way to yet more blistering breaks whilst Jan Vincent Velazco's drums are the most powerful they have been throughout the album. Clive Nolan maintains a hefty presence throughout with some magnificent orchestration giving scale of epic proportions. To close what can only be described as Pendragon's best work to date (and I don't say that lightly) is the aptly titled
Afraid Of Everything.
As I write the world is amidst a pandemic of biblical proportions and never has the words of a song been so appropriate especially with regards to the war being waged with the unseen enemy of Corona virus at all of our doors. Barrett's soulful Les Paul flows wonderfully into a team Pendragon crescendo finding boards man Clive Nolan pulling out all the stops. An enthralling and totally enjoyable listen from the opening bars to the final fade.
Love Over Fear
is a well timed beacon of light in my view. Though it offers some stark observations throughout the lyrical content it also offers hope. As a package
Love Over Fear
also offers pride of ownership with its gorgeous artwork by Liz Saddington and options of three disc deluxe CD edition with extra tracks and booklet, a double vinyl record set with gatefold sleeve and splatter coloured vinyl, a CD with a digi sleeve and an Mp3 download all via The Merch desk. Pendragon have returned to their roots in so many ways here yet managing to retain the bands more authoritative sound. In the years I have been reviewing music I can't count on one hand when I have used the phrase "the best album they have ever recorded", however, this is true of
Love Over Fear
. https://themerchdesk.com/index.php?route=product/category&path=136_202