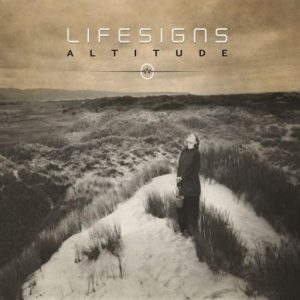 Lifesigns are a band of musicians who over their first two albums gave the impression of evolving. Their first album I considered enjoyable the failed to give me the wow factor whilst the bands second album
Cardington
saw the band hitting their stride creating something rather special. Their third strike
Altitude
finds the unit of Prog pilots attaining musical feng shui with regards to personnel, musicality and production. For those yet unfamiliar with Lifesigns I would guide you to their website/Facebook page for an accurate archive of their achievements so far and line-up changes etc. As far as line up goes the present version of Lifesigns is concerned the feng shui seems perfect (not that it was shabby before) in the fact that despite pandemic lockdown etc the synergy between the current musicians is shear excellence. I would go so far as to say that in the present guise the band are formidable. Comprising of John Young/Keyboards and vocals, Steve Rispin/production and sound, Jon Poole/bass, Dave Bainbridge/guitars and additional keyboards and newbie Zoltan Csorzs on drums, someone the rest of the band have yet to meet in person!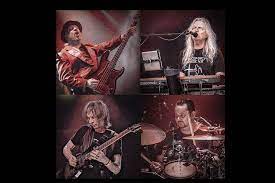 Altitude
is the first of the bands albums to be totally crowd funded via their own website and those who were generous enough to have contributed can be assured their money was spent in all the right places. This is evident in the overall quality of the music, production and packaging with artwork by Brett Wilde. Beginning with the title track
Altitude
it's clear that Lifesigns desire to set out their stall from the outset is achieved by placing the show piece first. At 15 minutes and 18 seconds long, it has man twists and turns which showcase just how tight as a band they are. John Young's weaving synth is laid at times on a granite bed of Hammond whilst Dave Bainbridge's eclectic guitar meanderings are nothing short of breath taking. There is still an aviation theme present here and some of the other songs too, an almost continuation from the band's previous album
Cardington.
This emotive piece highlights the plight of drone victims and those that remotely pilot such deadly weapons. The inclusion of cello played by Juliet Woolf adds subtlety and grace to the song too. It's difficult to gauge as a reviewer just what influence on the sound Steve Rispin has though, I have to tell you folks that the mixing and production are first class. As is the sequencing of tracks. The album flows beautifully reflecting how much time has been spent getting things just so.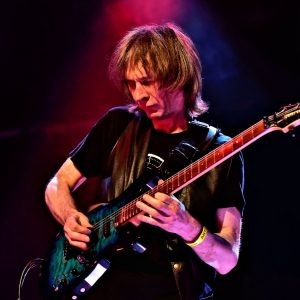 Dave Bainbridge really is impressive throughout every song with David Gilmour (Pink Floyd) licks in abundance. In fact, such are the chord sequences in
Gregarious
that psycho acoustics kick in and it is easy to pre-empt
Comfortably Numb
being played. There is some great bass playing and impactful drums here which make for a lively pace. This makes
Gregarious
a powerful piece with lyrics that are almost pleading. A tough act to follow yet somehow John Young pulls it off with the wistful
Ivory Tower.
There is no doubt in my mind that throughout the nine songs on the album they feature John Young's finest writing to date. From it's tranquil start the song has a slight melancholy about it though it is enriched by acoustic guitar and chiming keyboard sounds. Very much an ode to the trials and tribulations within a relationship and just like a relationship changes pace, on this occasion at around four and a half minutes in highlighting once more the great syncopation between the four musicians involved.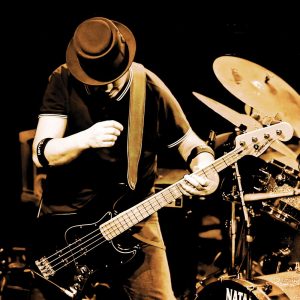 At this point I found myself stepping from one rock solid tine to another, this time to the rather wonderful
Shoreline.
With massed backing vocals supplied by Lyndsey Ward the song contains an absolutely blistering guitar solo by Dave Bainbridge countered by an equally impressive synth solo by John Young. The hits keep on coming with stylish
Fortitude.
Here a fabulous backbeat is laid down by Messrs Csorzs and Poole whilst the silky-smooth synths and guitar are backed once again by Lyndsey Ward's enchanting voice which helps drive the song along. There seems to be an immense space frequented by the instrumentation here further underpinned by John Poole's svelte bass playing.  With all these epic pieces running one after the other a slowing down of the flow is needed. The is achieved by the haunting musical interlude
Archange
lsk. This atmospheric instrumental piece named after a Russian city (I believe?) is a bridge to the penultimate though last epic piece of the album
Last One Home.
A song written during John Young's tenure with the band Quango which featured the late John Wetton. Oddly enough some of the phrasing of John's singing/lyrics could easily be mistaken for John Wetton's voice. There is a repeat of Dave Bainbridge's astounding guitar feats featured in earlier songs and the band really do come together here to create something special. A song about being the last fishermen home certainly resonates with me in some respects if you concept as an analogy. In true Prog tradition however, the album concludes with a reprise of the title song this time with John Young accompanied by his faithful synths and drum software.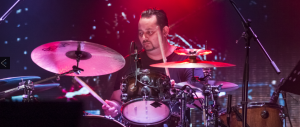 Altitude
isn't one of those Prog albums that you need to play on multiple occasions or analytically to fully appreciate. I found it instantly likable and from the first song I was on board for the whole journey. Listening back to the album for the purpose of this review had me listening to a band who in my opinion have well and truly hit their stride. To the dissenters of the genre, I would suggest they listen to this album because it represents in the highest terms what a modern Prog album sounds like. I have to doff my cap to lifesigns and congratulate them on a wholly fulfilling album of interesting songs full of all the essential musical elements to make it so, texture, rhythm and the all-important melody. With ear worms aplenty I can't recommend
Altitude
highly enough. Flex your credit card and/or lighten your PayPal forthwith.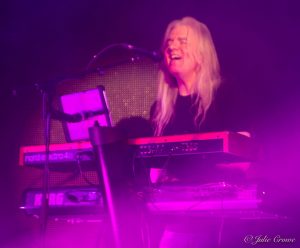 Available from all the usual outlets including…. Amazon and Bandcamp. Details of formats and prices from the Lifesigns website here… https://lifesignsmusic.co.uk/lifesigns-merch