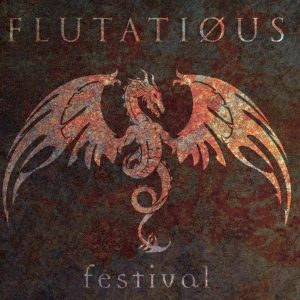 Ever heard a tune on the radio or at a friend's house and thought "I've heard that tune before"? Well, such a thing happened to me recently when I heard a track from the new album by London based band Flutatious. Turns out I had already heard a couple of tracks on various samplers though sadly at that time didn't fully appreciate what the band was all about. Being purveyors of Celtic psy-folk, whatever that may be? the band are a hit on the festival circuit which is fitting as their latest album  "Festival" which is the subject of this review. Having all been in a vocal band together, flautist Michelle Devonshire, Stella Ferguson (violin), Andy Faulkner (guitar), Bill Forwell (bass), Gerald Williams (keyboards) were joined later by drummer Malcolm Bailey to form what is now Flutatious. Inspired by a visit to a folk festival on the Isle of Skye they decided to form a more instrumental band rather than focusing on the vocal aspect. Strangely enough bassist Bill Forwell is the only Scot in the band despite their obvious Celtic leanings. Festival was recorded in John Mitchell's (Kino, Arena, It Bites) studio.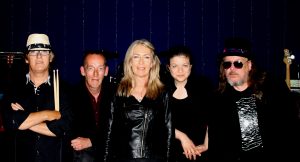 Kicking things off is title song "Festival". Apart from the obvious modern synth this chirpy opener sounds very 70's in so many ways. No harm in that at all, it's upbeat and a great listen. The instantly hooky and lovable piece has a great bass line, flute and fiddle interplay and certainly sets the pace. Acid Rain is another jaunty piece with a rock solid beat. Indeed the powerful no nonsense rhythm section lay down a firm foundation indicative of the whole album, no intricate Prog polyrhythms or time changes just good honest tub thumping with some tasteful synth swathes.  Slowing the pace a little is Funky Fish and gives Michelle Devonshire's flute Centre stage. There are some nice guitar and keyboard moments though I did think the keyboard trumpet pad was a little suspect I enjoyed the piece nevertheless.
First of the ear worms of the album is Joy and joy it is! I made reference above to the 70's though I think this particular song harks back to a late 60's vibe. I found myself singing and humming on a regular basis to this beautifully crafted song indicating its strong melody and simplicity.  It also has pace and excitement as do so many of the compositions here. So the question is, "is there any Prog in there"? Yes indeed there is in the form of Crystal Morning. I am lead to believe that this piece is a revisit of an earlier incarnation of which I haven't heard. With a great Proggy intro laced with haunting flute and guitar hooks. All is subtle throughout these once again pleasing tunes with the exception of the powerful beat which I found simply captivating. If this is what Celtic psy-folk is bring it on. So uplifting I felt compelled to jig.
Moving into an area close to my musical heart Summer Day's has an almost fusion sound about it. Strummed semi acoustic guitar and Rhodes sound are sumptuous, there's even a Clavinet thrown in  and from the outset Somewhere's Near Nowhere sounded like one of my favourite German bands Kraan. Yet the Celtic theme was infused by a keyboard sample of an accordion which I have to confess I didn't warm to. This didn't detract from the fact that it is a blinder of a piece. Guitar heavy throughout I was gasping for breath and wanting to dance the whole time. As the drums crashed to a halt I was tempted to holler Whooooh!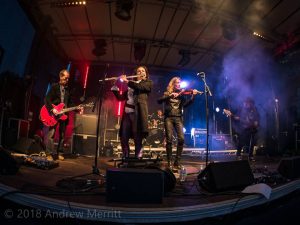 Flute augmented by a deep synth drone growling away in the background heralds the beginning of Rendezvous In Marakesh. Stella Furguson plays some sterling fiddle here with Michelle Devonshire adding some great flute. Bill Forwell's bass is deep and powerful without getting in the way of the music. Bass is so firm yet rich it does exactly what it's supposed to which is provide a foundation for the rest of the band. This continues once again as the listener gets caught up in the beat of Lady Willow. A Punchy bass drum and Spanish guitar admirably played by Andy Faulkner. This track allows Andy a little more freedom of expression though none more so than the bristling finale Tha I Ban which means "she is fair" in Scottish Gaelic.  Beginning in a way very reminiscent of Clannad the band saved the best till last. Heavily guitar driven, flute and violin meld to the rear as an almost grunge sound is cast out by thrash guitar. Yet again I find myself using the word uplifting. Jethro Tull on amphetamines you might say? It's easy to see why Flutatious are so popular in live situations such as festivals. The music throughout Festival is by and large rousing. The band dispense with polished production values and multimedia packages preferring instead to concentrate on the music. Proof of this is the overwhelming want to keep turning up the volume. As far as musicality is concerned Flutatious have it in spades. Don't take my word for it, go and listen for yourself.
CD can be bought from Magick Eye Records price £10
https://www.magickeye.com/releases?id=MEYCD27