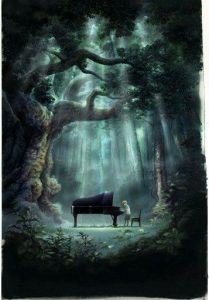 Interesting weekend music wise. Been playing Gleb Kolyadin's debut on vinyl. Absolutely wonderful. Fabulous Pianist and proves that not all Russian's mean us all harm. I have also been revisiting some of my really old albums that haven't seen the light of day for years, like the first Journey album and Caravan's Blind Dog At St Dunstans, Just finished off my weekend with Al Stewart's Year Of The Cat. Music really does chronicle your life and i was transported back to the time when i acquired these splendid relics. when absent friends weren't absent and my bones didn't ache when i woke up every morning. The one thing i still enjoy about hearing new albums though is that buzz i still get when i see the artwork and hear new and exciting tunes. I remember when i first listened to Emerson Lake & Palmer, Genesis and Pink Floyd. I was totally blown away by them. I am very lucky in many ways to be so techno-phobic that i still listen to music via good quality Hi-Fi, sitting in my chair with a mug of coffee in my hand. I am often accused of not being with the times and even when i review Mp3's sent to me i burn them to disc and play them on my aging CD player. Yes indeed when it comes to music new or old i am still a Neanderthal man.
I will be out of the office for the next few days so i will be taking my tablet loaded with my current faves Big Big Train and the fore mentioned Gleb Kolyadin. Of course now just like then an album arrives that ends up in the rack for a rainy day as no matter how much you listen to it, it just doesn't hit the spot. Such an album for me at the moment is 5 by Genesis Keys maestro Tony Banks. I think many of us have these moments. I remember buying Keith Jarrett's Koln concert and being totally underwhelmed by it yet i listened to it recently and was totally enchanted by it. Give a talented man a piano eh? Can't wait for Adam Holtzman's forthcoming album as the man falls into the gifted piano man category along with so many others like Andy Tillison and Paul Birchall. Aye, it's been a canny weekend music wise, i managed to catch up with the recent one night only Old grey Whistle Test special which had me realising how lucky i have been to be part of that fabulous era, i thought Gary Numan was excellent on it and beat the hell out of being out in the snow and driving winds.
Keep the faith brothers and sisters.