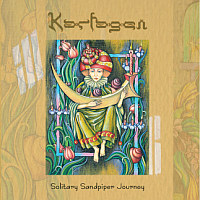 Karfagan is to all intents and purposes Antony Karlugin who also goes under the guises of Sunchild and Hoggwash.
On this latest Karfagan album Antony has brought together many fabulous musicians from The Ukraine. I was first smitten by Karfagan after listening to the album Continium which i would whole heartedly recommend. The first thing that i noticed about this album when i recieved it through the post is the wonderful presentation. Like all Karfagan albums the artwork is fabulous. When you handle an album like this you can understand why fans of the humble LP prefer them. To imagine the Karfagan albums on a 12″X12″ LP cover would be a site to behold. Musically the album has all the complexity of Gentle Giant through the wonderful guitar of Camel to the Elizabethan pomposity of Focus.
Indeed on track 3 Silent Anger part 2 i had the overwhelming want to shout a hay nolly nolly and find a Maypole to dance around. I am surprised at just how English the album sounds considering that the personnel are mostly if not all from Ukraine. It is only when the gorgeous Marina Zakharova begins to sing that the game is up. I didn't find the tracks on which Antony sung quite as appealing. Although the final track Mystery on which he is supported by Marina was a little better.
The final track in true prog tradition is a little over 22 minutes long and split into 5 parts. I hear a lot of Snowgoose in this track. All in all the album is 75 minutes long so you get a lot for your 9 quid. On first listening i didn't think that the recording qualitly was as good as Continium which i still prefer. That's not to say that this album isn't as good. It's all down to personal preference.  I fully intend to obtain all of Antony's albums as i think they have a lot of bang for the buck. There are so many brilliant elements to this album, not only some great keyboard sounds but guitar, drums ,bass as well as the myriad of other musicians playing flute,bassoon,cello,viola and accordian,oboe,sax, the list goes on. If you like constant musical reprisals and continuing themes Karfagan might not appeal.
If you enjoy a more freeform feel about your music you will simply adore this album. Background music this aint. It demands to be listened to. It may not smack you in the face on first listening but i think it's a cracking piece of work. Buy with confidence.
Solitary Sandpiper Journey and other Karfagen related albums are available from www.caerllysimusic.co.uk