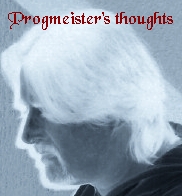 Being as I am a proghead who's penchant lay firmly with the keyboard fraternity i was recently reflecting upon absent friends. Namely Richard Wright and of course much more recently the tragedy that befell Woolly Wolstenholme. These reflections coinsided with the finding of a compilation disc i did nine years ago following the death of the late Peter Bardens.
I cringed at the low tech CD booklet that i had at the time thought was really good, and decided to play the rather cheap and cheerful CDR within. I must admit to being a little overwhelmed. It had been some time since i listened to the disc and i had forgotten just how talented Pete Bardens was. It didn't take long before i was quickly reminded as the first few bars of Westward Ho rang out across my room.
It also made me think of the fragility of the aging prog population. Rick Wakeman spending more time as a grumpy old man on the telly and Emo's health scares serve as reminders that not all that is good will last for ever. However, music chronicles your life and listening to given musical pieces can transport the mind to happier and easier times.
Pete Bardens left a healthy musical legacy that may well be little thought of by the masses but consumed like a fine wine by those in the know. The body of work that exists from the late sixties to his untimely passing in January 2002 is more extensive than you may think. Pete Bardens recorded some fantastic albums though he will probably be remembered best for his work with Camel.
My view is that his work wasn't that of a musical genius or indeed a great technician but that of a hands on muso who's enthusiasm and raw sponteneous talent can be heard via his compositions and wonderful use of sound and texture. Best known as a jazz influenced organist he was as adept playing a Mini Moog or laterly adopting newer technology which he was well ahead of the pack utilising creatively.
At the time i compiled the disc i had just taken delivery of a CD recorder which enabled me to transfer analogue to digital so many of the tracks i had transfered from vinyl. I was reminded of this when on first hearing the opening track afer all these years i was greeted by a very loud thump through my precious speakers and complete with cracks and pops coming fom my CD player felt right at home.
I listened to the disc in it's entirity as i felt unable to leave it unattended any longer than it had been. My job at the weekend will be to transfer my now coveted compilation to a quality CDR to prolong it's life a little longer and use my somewhat improved imagination and computer skill manufacturing a better booklet.
Pete Bardens along with his afore mentioned brethren not only left a rich musical legacy which touched us all and influenced many, they carved a template from which many contempory prog artistes draw their style and technique. I intend to celebrate with wine and song in the company of my like minded friends the heritage that has been left by Pete Bardens by broadcasting my jewel to them and allowing them to drink my single malt for absent friends.
I am very lucky to be one of the many who witnessed Pete playing live and i am hoping that my ramblings may just jog a memory or two which may spur you on to give his music a new airing following nine years in a world without him. With regard to the rest of our rapidly aging heroes, may i quote from one of Pete's songs, "gather the roses while you may". I have enjoyed revisiting the diverse and interesting recording career of this gentleman of the Hammond and intend to do so for quite some years to come.
For those who may be remotely interested. The Progmeister's compilation was/is as follows
Westward ho
Slow motion
Journey
Shape of the rain
Columbine (From where i pinched the above quote)
In dreams
Sometime
Sea of dreams
China blue
Last waltze/for old times sake
After dark
The zone
Futher than you know
Hopi prayer
High
Spirit of the water (solo piano demo version. exquisite!)
Rain talk.