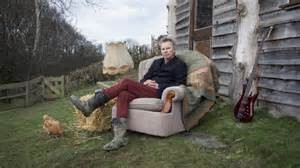 At Wild End Is the produce of a well co-ordinated pre-order campaign by Camel Bass man Colin Bass. Without doubt a gifted musician and producer Colin bass has a rich musical CV well earned and well deserved. At Wild End finds Colin taking a step back from his Camel persona and firmly entrenching himself in his own style and diverse leanings. Anyone who has had the good fortune to see Colin playing live with Camel will know what a talented multi instrumentalist he is as such a seasoned musician and writer. From 1998's An Outcast Of The Island through several live and studio albums Mr Bass seems to have consolidated his varying musical influences and intriguing choice of subject matter for his song writing skills to  make At Wild End very pleasing to listen to and very easy on the ear.
Wild End is not only the Bass des res, it is also the studio in which he has assembled some gifted musicians and the fibre optic antenna to capture others contributions. Decamping to the wilds of Snowdonia Colin Bass has created a haven from where it is more than evident he is comfortable in his own skin. The rural feel of the title is reflected in the art work and as a package it best described as homely and comforting. There are some interesting images to accompany each song which i think is best left to the minds eye.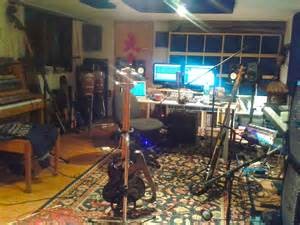 Beginning with Return To Earth the glassy sounding guitar and Colin's lilting voice set the pace for many of the albums easily deciphered songs and set the scene for story telling and great melodies. Evident also from the outset was the solid drumming contribution by Dave Stewart (Fish/Camel) though looking at the booklet i was a little bewildered by the image of a Landrover at the foot of a cliff face. A dedication to the late Guy Le Blanc was made here though i am unsure if is the song or the album as a whole that is being dedicated to him. An alarm clock and the sound of a waterfall further invokes the rural atmosphere of the album. Kim Burton's piano and Colin's over layered harmonies reflect tranquillity and contentment. Sian James's Welsh harp further adding to this mood adding a slight folk texture to the song.
Harking back to one of my favourite Colin Bass songs, parallels can be made with Goodbye To Albion with regards to my favourite track of this album Walking To Santiago. A homage to the walk made by pilgrims from Santiago De Compostela in Galicia North West Spain via the Camino's to Southern France. The second part of the song is Colin's imagination of three pilgrim tales and the reasons that drove them to take the walk. From the recital of the opening verse to John Bunyan's hymn To Be A Pilgrim This song had the anthemic flow of Goodbye To Albion whilst sounding fresh and crisp thanks in part to Andy Latimer's nylon string guitar inflection and Sian James's Welsh harp. I found this song uplifting and moved along beautifully, filled out with brass sounds and great acoustic guitar wrangling by both Bass and Latimer.
The haunting sound of waves crashing to the shore morphs the outgoing tones of Walking To Santiago into a soulful ballad again carried along with Welsh harp and Colin's peaceful voice. Waiting For Someone regales a tale of a young girl awaiting her lovers return from the war and is loaned credence with the inclusion of Lisa Jen Brown's lilting voice. Colin's bass and keyboards adding warmth and depth to the piece it's easy to be carried away and to simply kick back and enjoy. In stark contrast to this is In another time which reflects on Colin's time as a member of Clancy in the very early days of his career. I think this is a raunchy as Mr Bass gets on this albums telling tales of the band's dealings with the music business and gigging around the London pub scene in the early 70's. I couldn't help thinking That Colin sounded like Roger Waters at times whilst singing this song. The feel of such a gig was captured by the inclusion of a live crowd clapping at the end, a nice touch.
Moving into a more World Music mode Colin drawers upon his alter ego Sabah Habas Mustapha and his experiences with Indonesian and Malaysian rhythms with Szegereli Eternal. Whist confining himself to bass guitar Colin is joined by Kim Burton on piano and a myriad of exotic instruments such as accordion, Kaval, and Ciftele along with Ben Mandelson on guitar accompanied by Ensemble Voco Kuraga Nevoj choir. A little spice added to what is quintessentially an English musical diet. Speaking of which Darkness On The Lake finds Colin sharing guitar and keyboard roles with Andy Latimer whilst Dave Stewart added to the tempo with some driving rhythms. Andy Latimer's slide guitar added a country rock aspect to the song which i found refreshing.
Back into World Music mode for an all too brief moment is the excellent Babuka Bridge bringing diversity once more to the proceedings. Instruments such as jews harp, harmonica, djembi, kecrek, bedug, kendang and gongs all play a part in lending colour and light to the album adding verve and a moment of light heartedness before the moving and beautiful prequel to Waiting For Someone the once again haunting and soulful If I Could Stay. Sumptuously captured vocal harmonies and descriptive delivery tell the tail of a couple spending their last night together before he must leave to go to war. Lisa Jen Brown's voice once again a much needed femininity to the song whilst Kim Burton's piano frames Andy Latimer's guitar as if it was a picture.
Girls From The North West is a jaunty little ditty with some rather interesting string sounds. Though i am unsure of their origin i suspect that Jennifer Williams violin may be the culprit. Somewhat of a guitar fest Girls From The North East sees extra troops drafted in on axe duties in the form of Ben Mendelson and Alan Prosser. Colin's bass is solid and punchy here driving the song at every point. Yet more rural sound effects announce Colin Bass reciting a poem whilst playing bass and guitars beautifully accompanied once again my Kim Burton on piano for the penultimate piece Up At Sheep's Bleat. I actually felt cold listening to this and in need of soup and warm clothing. To finish things off nicely Andrew Latimer's unmistakable guitar sound rang out as if to inform all that this is the title song. A full band effort, rousing, melodic and soulful to the end. A musical triumph from start to finish in my eyes.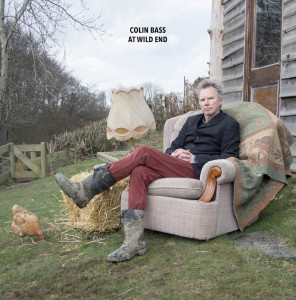 Don't be fooled by the picture on the front cover of Colin Bass in an almost Val Doonigan type pose. He is a musical weaver of rich tapestry consolidating a lifetime of experience, styles and passion to make something of substance to listen to and savour. Should this album be found in a supermarket it would be in the organic products aisle. No 5.1 surround sound mix or Blu-ray option, instead a man and his friends entertaining you in a traditional style with some great thought provoking tunes.  A sheer pleasure to rock your head back after a hard day and listen to at any volume level.
Available from www.colinbass.com